Boats & Motors for Sale:
(Free service for members only)
KRAM for sale! (Looking for a good home)
11'6'' Sloop designed by Iain Oughtred (model Guillemot)
Beam 4'5"
Draft 7"
Sail area 62sq ft
Asking price: $2300
 
 
I built Kram in 2005 (completed in 06) and used fir marine plywood, white oak, mahogany, tulip poplar and cypress. The entire build was coated with epoxy.
She was then finished with Interlux primer and topside paint. The underside has bottom paint and the keel and bilge runners are protected by a half oval brass molding. Spars are epoxied and varnished solid pine.
Kram has been stored in my garage when not in use, so her condition is generally very good, with a few wear spots, as expected.
Perfect for shallow waters  and seaworthy. She is ready to sail.
 
Comes with jib and main made by Dabbler Sails with two reef points (Gunter rigged), 8' oars, fenders, dolly for beach launching, boat cover and a Continental trailer.
Also, a small Bruce anchor and a few other accessories. Boat located in Atlanta, Ga

I can be contacted at: jibar18@earthlink.net or 404/389-0565
1993 Hunter 23.5, $8000 OBO
Draft 5.5' board down; 1.5' board up, 34' mast height, 1000 lbs water ballast
Saint Somewhere is a well maintained, easy to sail, comfortable, trailerable, day sailor with overnight accommodations for four. Always kept tarped to prevent sun fading on deck.  She has had many improvements including:
2010 Jocky Red Bimini with aft supports purchased through the Trailer Sailor Chandlery
2011 110% Lapper Roller Furling Headsail with Sunbrella protective strip with Leach/foot line adjustments built into sail made by SailCare
2012 Hyde footed Mainsail with full battens/2 reef points/6oz cloth purchased through JSI Island Nautical
2013, 9.8 hp Nissan four stroke engine with charger, electric start, and 6 gallon tank with 20 hour service and 2 each 100 hour services (nowhere near 100 hours either time, but I get the motor serviced every 2 years maximum).
IdaSailor rudder and tiller assembly (HTPE rudder blade, not cored fiberglass like original and wood tiller, not a metal pipe that would burn your hands on a hot day like the OEM tiller)
HTPE swing keel, which includes rebuilt lifting hardware
2014 Magic Tilt single axle trailer, two speed winch, spare tire, 6 feet tongue extension, 2017 Load Range D tires.  Trailer serviced November 2017 with new disc pads/rotors/seals/brake fluid.  
Features of this Hunter 23.5: Hunter mast raising system, stainless swim ladder with teak steps, double berths forward and aft, dinette table for cabin or cockpit, pressure water galley sink, forward opening hatch, fire extinguisher, molded in non-skid deck, anchor locker, butane stove, Simrad Autopilot (has never worked well for me, it may have been a battery issue, but there is a new battery now), Asymetrical Spinnaker (Red, White, and Blue) with snuffer sock and ATN Tacker, Factory Dodger in white, pressure water, cockpit shower, 25 gallon water blivet under Vberth with anchor locker fill, LED cabin lights, 4" Memory Foam in Vberth over stock cushions, Port-a-Pottie, mostly new cushions and covers in cabin, cockpit cushions (original equipment), VHF radio, Force anchor forward with 30 ft of chain and 100 feet of anchor line, and two large cockpit lockers.  Life jackets for four, two fenders and two dock lines. New (2017) group 24 Duracell AGM battery installed in 2017. Weighs 2000lbs. dry, 3000lbs. with water ballast. Fill upon launch and drain on trailer at ramp.
The boat trailers like a dream, is easy to sail single-handed, the motor starts on second turn of electric start, cockpit is roomy, interior looks great (did I mention new cushions).Never bottom painted. (More photos upon request)
I probably forgot a few things but Saint Somewhere, named after the lyrics in a Jimmy Buffet song called "Boat Drinks", is a great boat which we have enjoyed owning.  Selling to buy a Sea Pearl Trimaran to keep at our covered dock on a canal off a lake in Citrus County Florida because Saint Somewhere is just too big for the dock/canal/lake and its trees/25' high power line that divides the lake.
I am agreeable to demo sails on Henderson Lake, a local lake, for $100 (that way I don't have to wash/flush/rinse as much as salt water requires), which will be applied to the purchase price, if you buy the boat.
To see more pictures of Saint Somewhere do a Google Image Search for Hunter 23.5 sailboat, Saint Somewhere or St Somewhere. 
ed.combs@yahoo.com
FOR SALE:  Compac Legacy Sailboat
 
One knee replacement, another pending and turning eighty have convinced me that my 72 years of sailing are over.
  I have a three year old " NEW " (1 hour sailing of a fresh water lake) Compac Legacy. 
It has been garage stored; there isn't a rub, scratch or dent anywhere on it. Occasionally we have to dust it. 
With the folding trailer tongue, it fits in a standard garage.The list of Compact Inc. options is extensive -including full electric system and running lights.
Propulsion is a Lehr 5 HP Propane engine with less than ½ hour total running time.  There is also an extended range propane tank installed in the cockpit.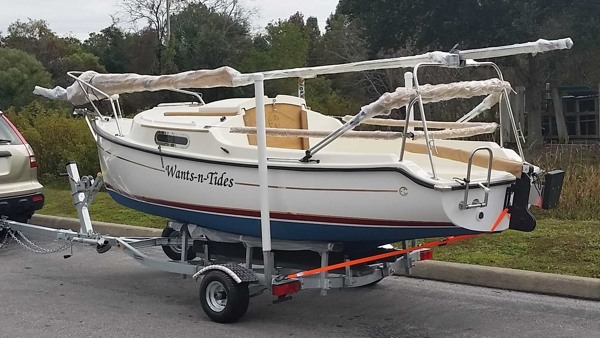 Boat and engine would list for over $22,000 + today.  We are selling it for $18,000.
AND -  There is a bonus!
  I have an extensive collection of sailboat parts (mostly new) that were purchased in advance of the next "larger boat."  A few of them are shown in the photographs below. Approximately $3,000 to 4,000 worth of sailboat fittings that will go with the legacy.    Boat located in Bradenton, FL.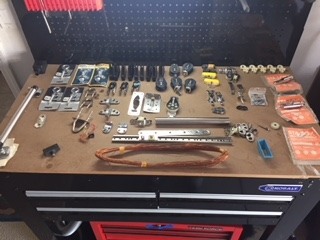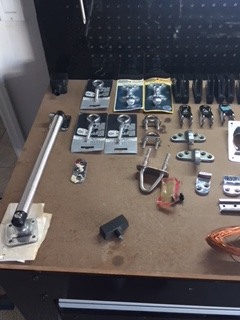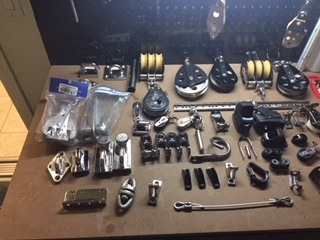 Contact;  Tom Barrett    Ftrooppilot@gmail.com             (361) 549-3055
-------------------------------------------------------------------------------------------------------------------------------------
All marine ply, 18 ft. Hartley TS Fish. Built in 2009, 2009 20 HP Mercury electric start, alternator.
 all controls at Steering station.  2 berths forward, 2009 continental trailer with new 2035 lb. axel.
 all records of materials and equip. from 600 hr. build are available. Asking $6500.
patrick@eastshorecabinetry.com
      Patrick Johnson
East Shore Cabinetry LLC.
       561.379.3193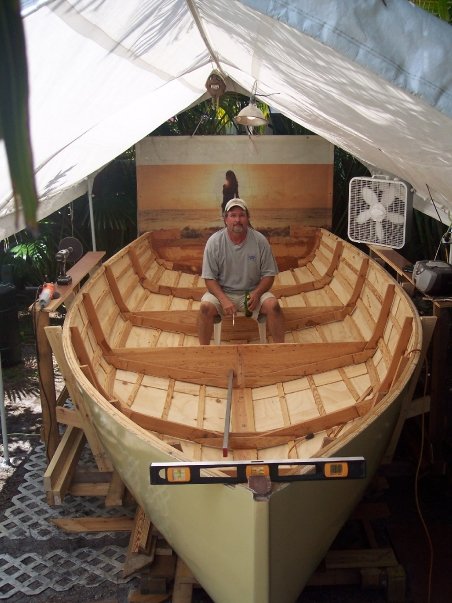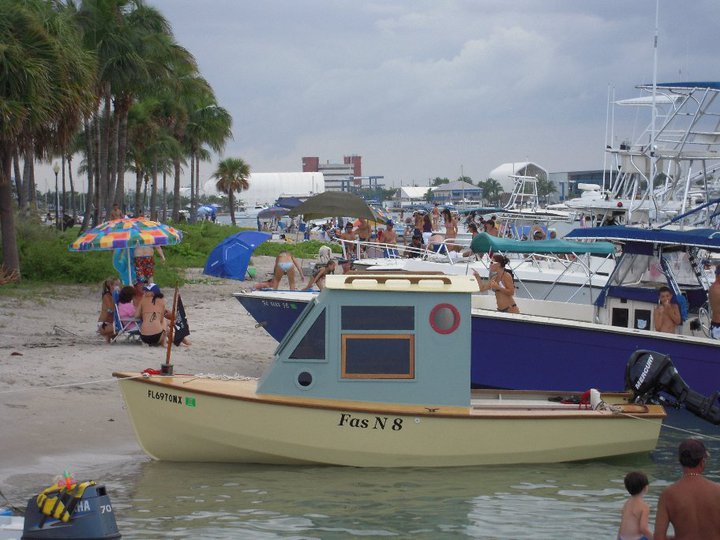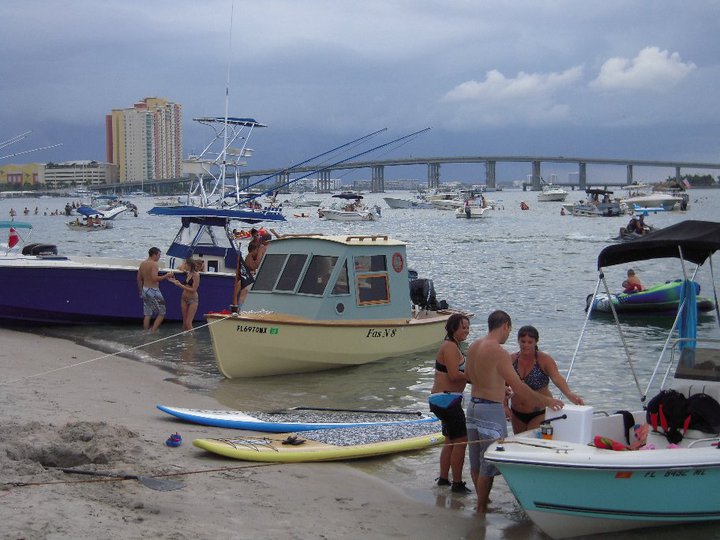 2008 MacGregor 26M Super Sport for Sale
Clean and well maintained 2008 MacGregor 26M Super Sport SE motor-sailor with sharp looking blue hull on the water near Leesburg, Florida.
Asking price only $20,995 OBO.
Original cost of the boat with all the extras was close to $40,000. The asking price of most of these on the market, with much less equipment and in worse shape is $22,000 to $30,000. Saltwater-history boats and trailers tend to be less.
This boat has never been in saltwater, which is important for the condition of the engine, the bottom, and the trailer and trailer brakes. It was in Colorado on very clean high lakes for the first 3 summers and in a barn the rest of the time. After that, it has been in storage except for the last two years, when it has been docked on a freshwater lake.
For a video showing the interior and many wonderful features of this boat,
see the following video:The MacGregor 26 - a 5 minute introduction - YouTube(control click on that to follow the link).
For a long list of her equipment and wonderful qualities, contact Roy Irwin at dancesmo63t@outlook.com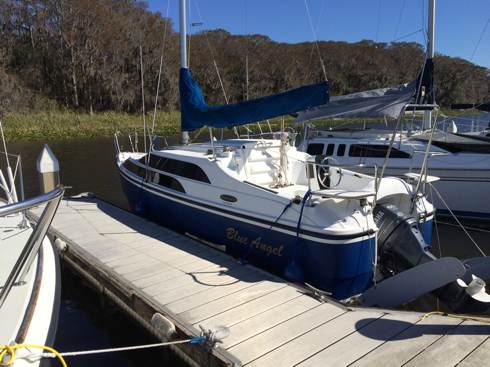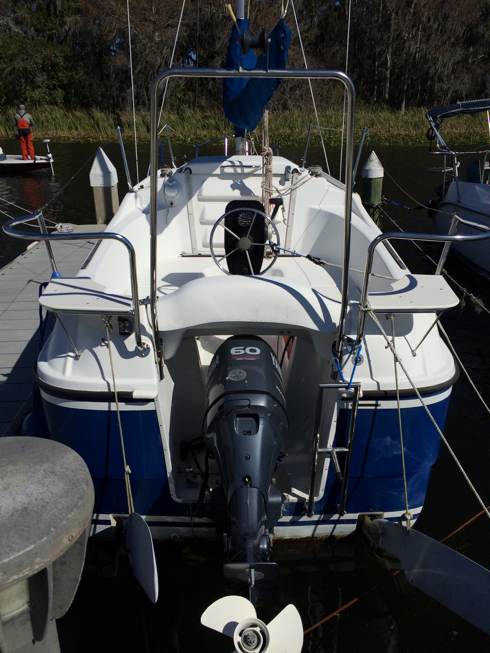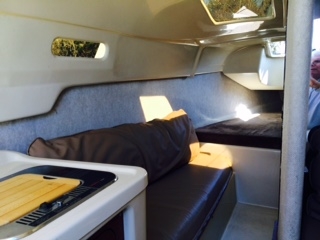 -----------------------------------------------------------------------------------------------------------
Lou Reis has salvaged his MacGregor 26 D after it was hit by a tree!
Here's a list and some photos of what's available to purchase.
Sails - Main, 150% Genny, 100% working jib, Cruising Spinnaker with sock and turtle - good condition
Full Set of cabin Cushions (settee cushions in very good shape), V berth and under cockpit cushions need re-upholstered.
Cockpit Cushions (fair). Rudder assembly with tiller and spare (Functional condition)
Dagger board (functional) Swim Ladder, 2 Lewmar single speed winches size 6 with handlesNew Guest battery switch #3200 in unopened box
VHF radio - Standard Horizon Eclipse with antennae
Compass, Ritchie bracket mounted. Navigation lights (ALL) Bow Pulpit anchor support hangers. Standing Rigging (Fair)
Deck hardware for halyards to cockpit - double turning blocks, deck organizer, double clutch brake
Knot stick, Miscellaneous deck and sailing hardward (see photos) - Teak paper towel holder.
Call Lou Reis (407) 782-0896 for prices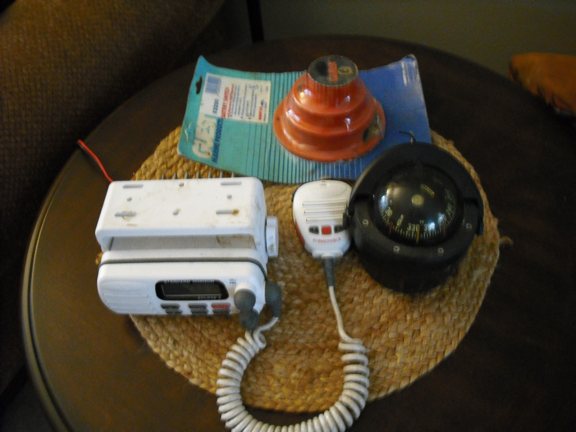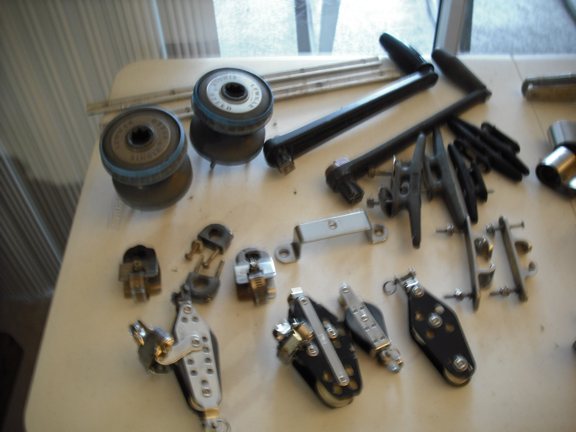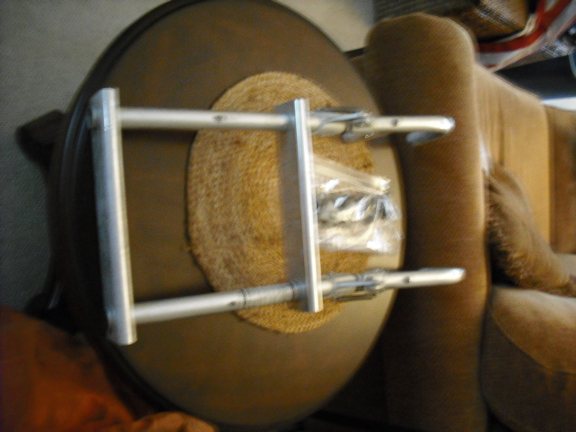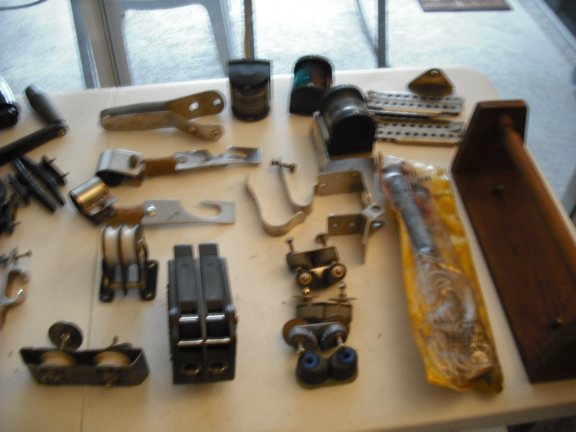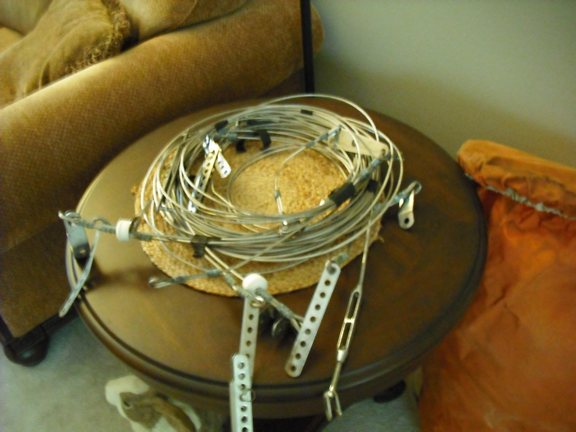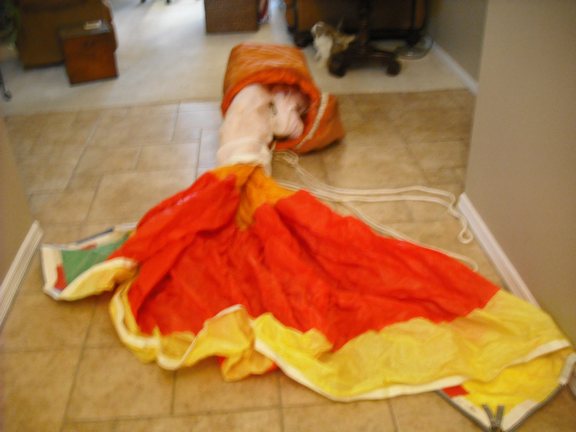 --------------------------------------------------------------------------------------------------------------------------------------------------