Boats & Motors for Sale:
(Free service for members only)
For Sale: Bruce Kirby designed Norwalk Island Sharpie and trailer - $11,500  
Boat is presently in the water at Davis Islands, Tampa. Excellent build and condition except for deteriorated external brightwork and paint
No rot or stains. No hull or cockpit locker leaks. Cushions have all been replaced since these pictures were taken 
Has tabernacle for raising mainmast on trailer (not on the water)
LOA                22' 11"
LWL               19' 0"
Beam             7' 3"
Draft:CB up        8" - CB down   4' 7" - Displacement 1800 lb w/o crew. 600 lb lead bar ballast;  this boat is self-righting
Sail areas
Main 160 sf
Mizzen 56 sf
Total    216 sf, three reefs in each sail
Main mast height 30'  7". Motor is a Mariner 5 hp
Link to NIS website: news.html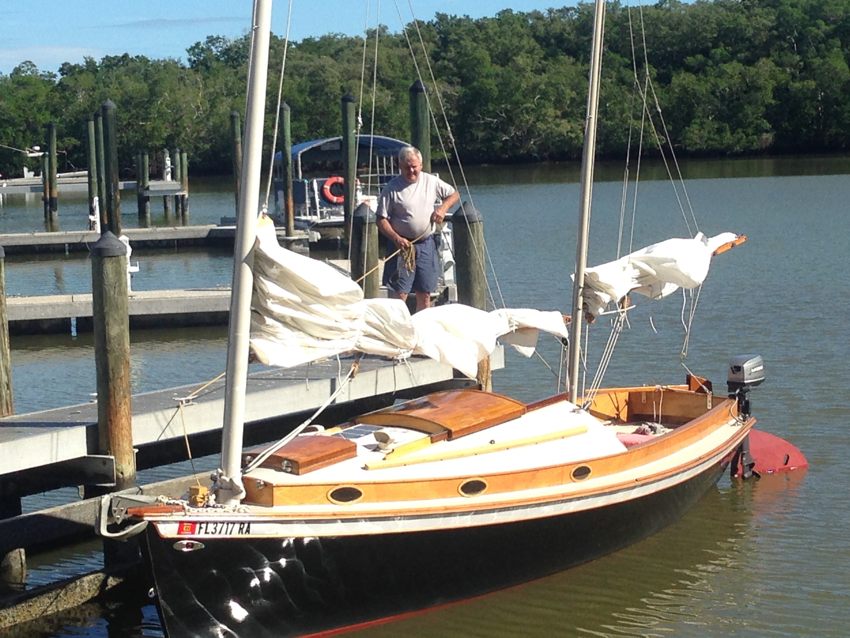 Additional  pictures: https://www.flickr.com/photos/135137507@N04/with/20847334988/
Contact Bill Fite:
 wfite@tampabay.rr.com
Home (813) 258-3317, Cell (813) 786-3483
-=-=-=-=-=-=-=-=-=-=-=-=-=-=-==-=-=-=-=-=-=-=-=-=-==-==-=-=-=-=-=-=-=-=-=-==-=-=-=-=-=-=-=-=-=-=-=-=-=-=--=-=-=-=-=-=-=
FOR SALE:  Compac Legacy Sailboat
 
One knee replacement, another pending and turning eighty have convinced me that my 72 years of sailing are over.
  I have a three year old " NEW " (1 hour sailing of a fresh water lake) Compac Legacy. 
It has been garage stored; there isn't a rub, scratch or dent anywhere on it. Occasionally we have to dust it. 
With the folding trailer tongue, it fits in a standard garage.The list of Compact Inc. options is extensive -including full electric system and running lights.
Propulsion is a Lehr 5 HP Propane engine with less than ½ hour total running time.  There is also an extended range propane tank installed in the cockpit.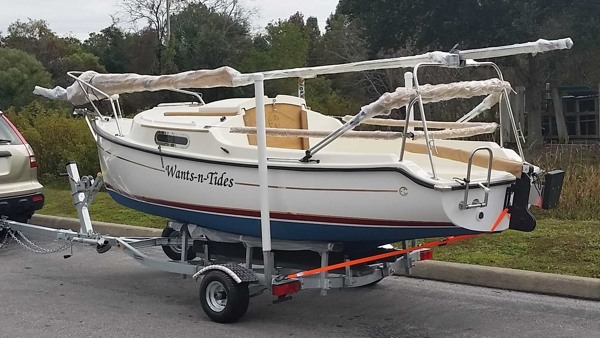 Boat and engine would list for over $22,000 + today.  We are selling it for $18,000.
AND -  There is a bonus!
  I have an extensive collection of sailboat parts (mostly new) that were purchased in advance of the next "larger boat."  A few of them are shown in the photographs below. Approximately $3,000 to 4,000 worth of sailboat fittings that will go with the legacy.    Boat located in Bradenton, FL.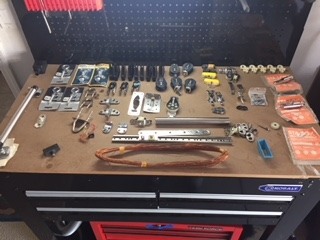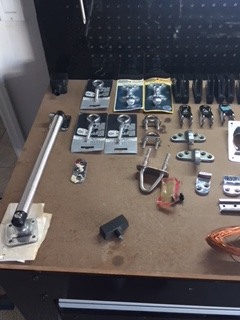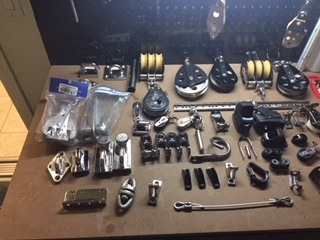 Contact;  Tom Barrett    Ftrooppilot@gmail.com             (361) 549-3055
-------------------------------------------------------------------------------------------------------------------------------------
All marine ply, 18 ft. Hartley TS Fish. Built in 2009, 2009 20 HP Mercury electric start, alternator.
 all controls at Steering station.  2 berths forward, 2009 continental trailer with new 2035 lb. axel.
 all records of materials and equip. from 600 hr. build are available. Asking $6500.
patrick@eastshorecabinetry.com
      Patrick Johnson
East Shore Cabinetry LLC.
       561.379.3193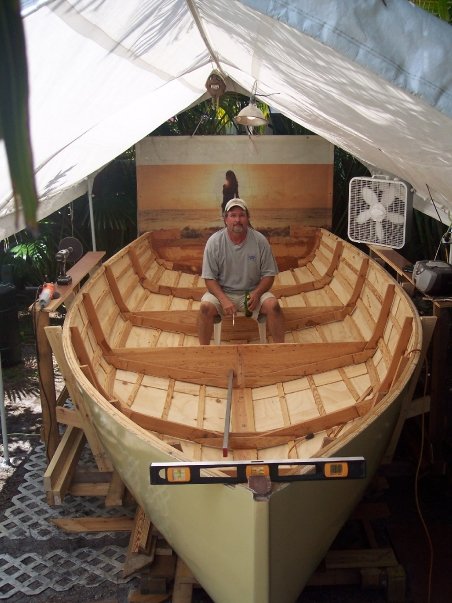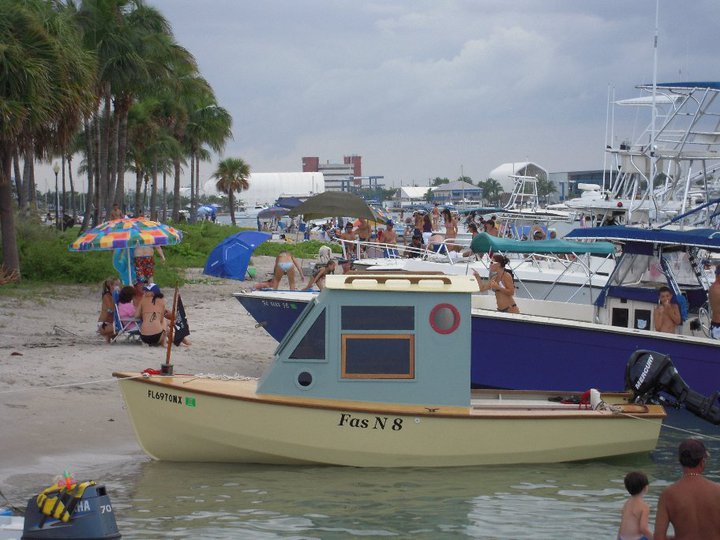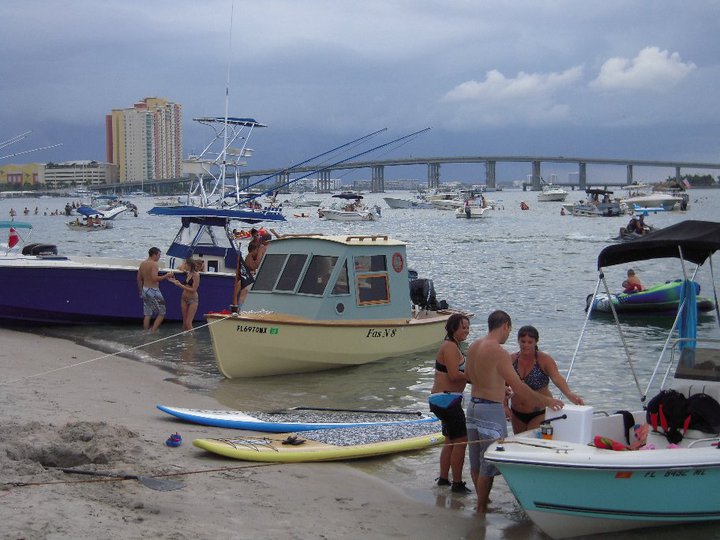 2008 MacGregor 26M Super Sport for Sale
Clean and well maintained 2008 MacGregor 26M Super Sport SE motor-sailor with sharp looking blue hull on the water near Leesburg, Florida.
Asking price only $20,995 OBO.
Original cost of the boat with all the extras was close to $40,000. The asking price of most of these on the market, with much less equipment and in worse shape is $22,000 to $30,000. Saltwater-history boats and trailers tend to be less.
This boat has never been in saltwater, which is important for the condition of the engine, the bottom, and the trailer and trailer brakes. It was in Colorado on very clean high lakes for the first 3 summers and in a barn the rest of the time. After that, it has been in storage except for the last two years, when it has been docked on a freshwater lake.
For a video showing the interior and many wonderful features of this boat,
see the following video:The MacGregor 26 - a 5 minute introduction - YouTube(control click on that to follow the link).
For a long list of her equipment and wonderful qualities, contact Roy Irwin at dancesmo63t@outlook.com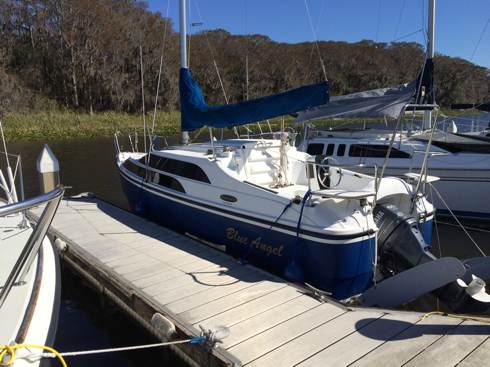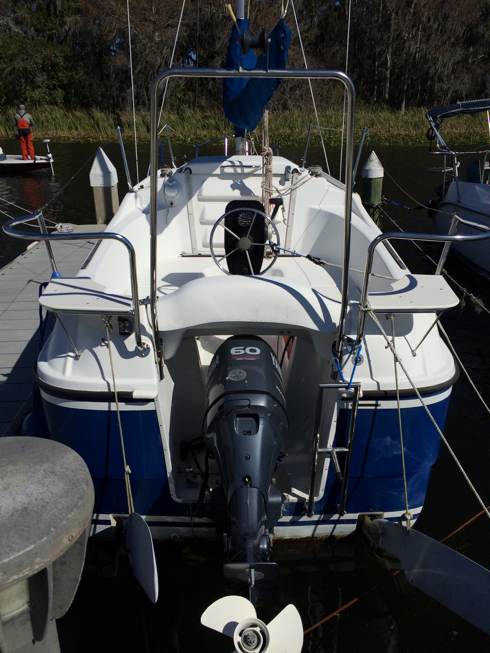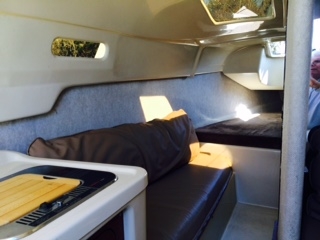 -----------------------------------------------------------------------------------------------------------
Lou Reis has salvaged his MacGregor 26 D after it was hit by a tree!
Here's a list and some photos of what's available to purchase.
Sails - Main, 150% Genny, 100% working jib, Cruising Spinnaker with sock and turtle - good condition
Full Set of cabin Cushions (settee cushions in very good shape), V berth and under cockpit cushions need re-upholstered.
Cockpit Cushions (fair). Rudder assembly with tiller and spare (Functional condition)
Dagger board (functional) Swim Ladder, 2 Lewmar single speed winches size 6 with handlesNew Guest battery switch #3200 in unopened box
VHF radio - Standard Horizon Eclipse with antennae
Compass, Ritchie bracket mounted. Navigation lights (ALL) Bow Pulpit anchor support hangers. Standing Rigging (Fair)
Deck hardware for halyards to cockpit - double turning blocks, deck organizer, double clutch brake
Knot stick, Miscellaneous deck and sailing hardward (see photos) - Teak paper towel holder.
Call Lou Reis (407) 782-0896 for prices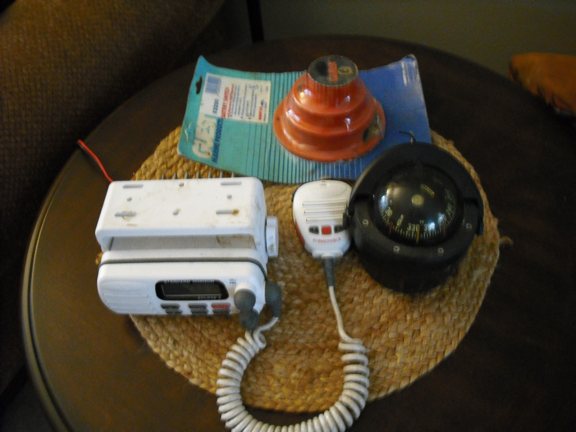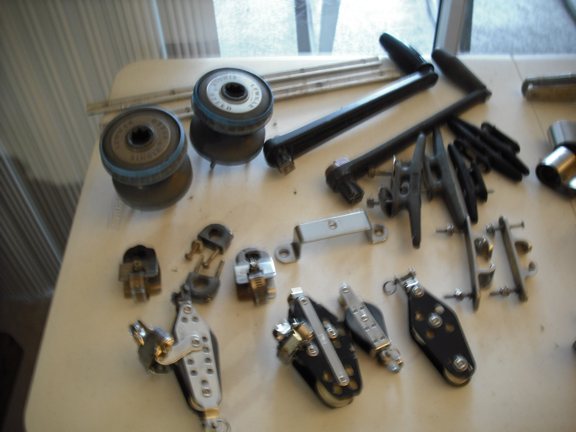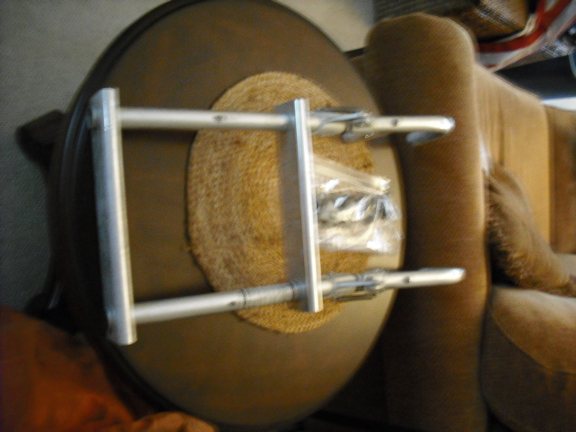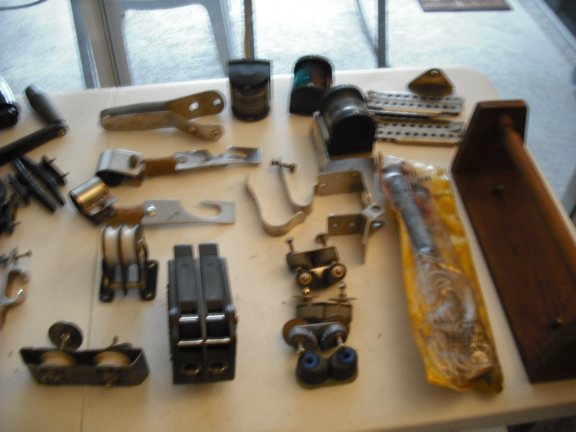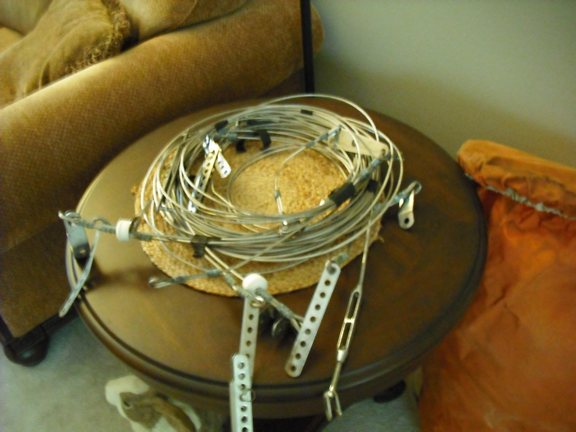 16' Lowell Boat Shop surf dory; row, sail, motor. Asking only $7,500
This over 40 year old wood sailing dory is in immaculate condition - garage kept.
She is Yellow Pine on White Oak frames with Mahogany thwarts, transom, and trim. Spars are Fir.
She has a sprit rig for her original Egyptian Cotton sail in good condition with some stains.
Shaw and Teeney oars (2), bronze hardware, and a custom Continental beach launching tilt trailer (new 2012) are included.
She has an outboard motor well in the stern (no motor included). Located St. Petersburg, FL. Call Craig at (813) 340-0227.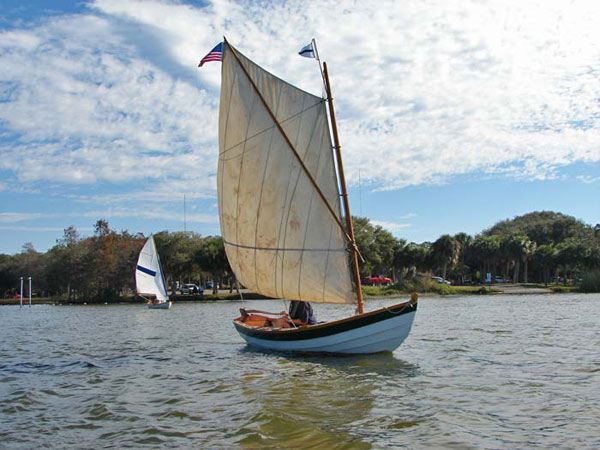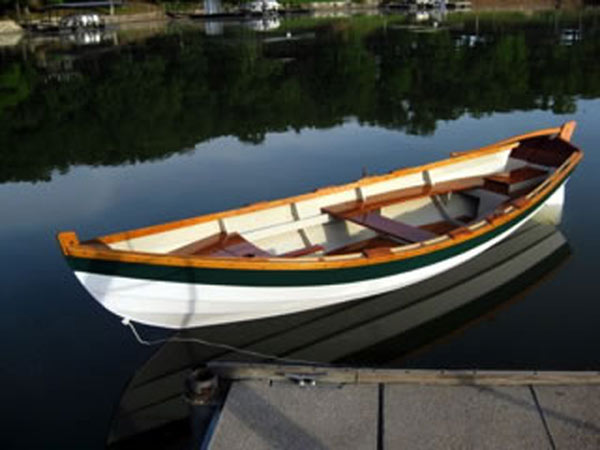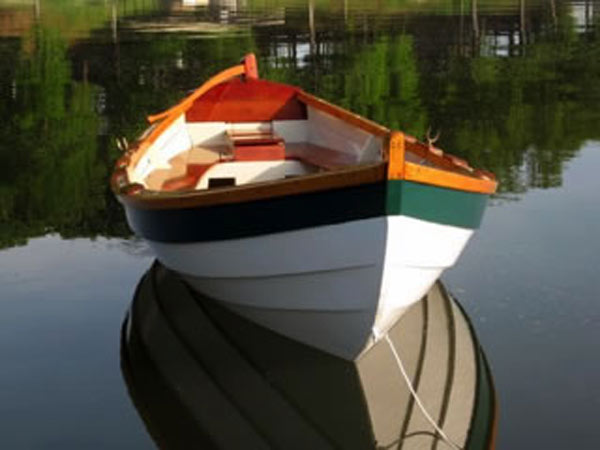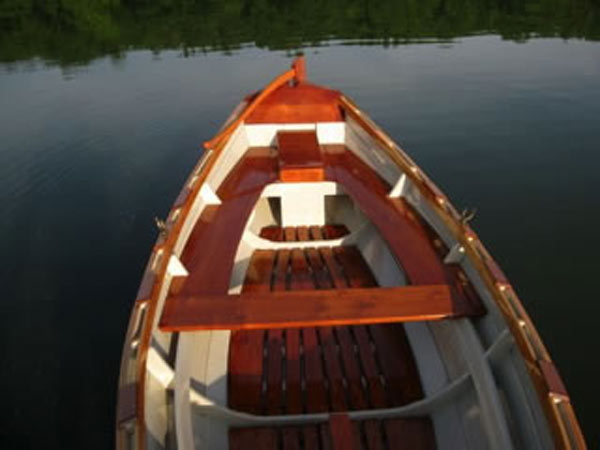 -------------------- -=-=-=-=-=-=-=-=-=----------------------------------=-=-=-=-=-=-=-=-=-=-=-=--------------------------------=-=-=-=-=-=-=-=-=-=-=---------------------=-