10,000 Islands Cruise - Jan 9th - 12th, 2014
Photos by: John and Colette Johns, Dimitri Krinos and Ron Hoddinott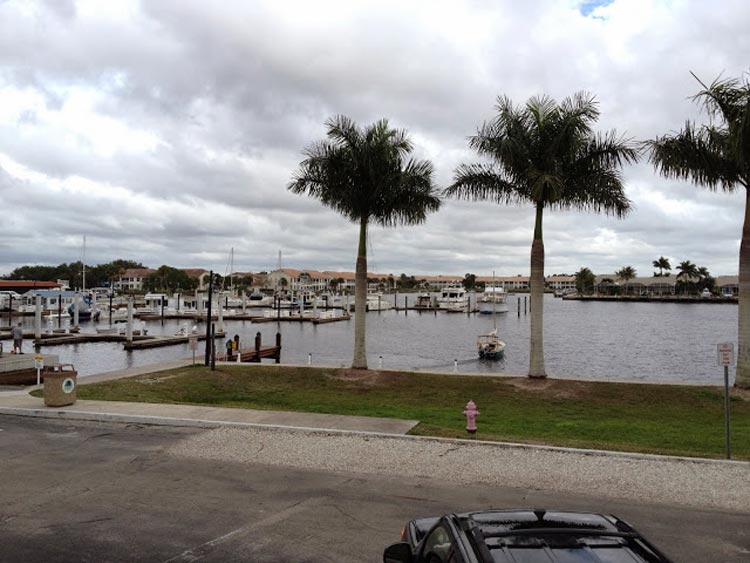 Port of the Islands Marina and Ramp. Art's Peep Hen powering away.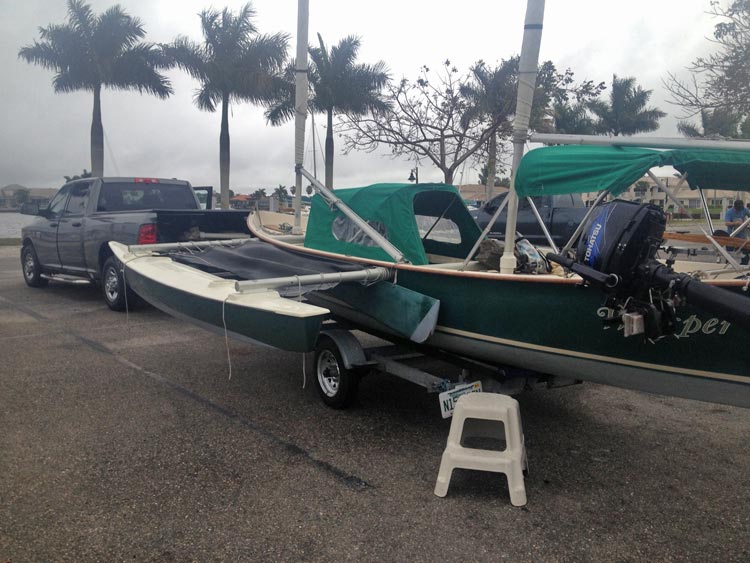 Ron's Whisper was ready to go early, but waited for company.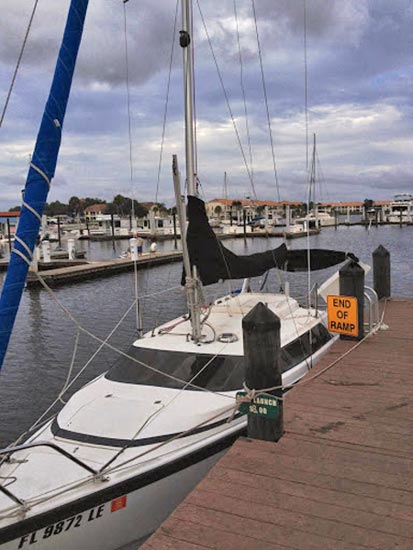 Dimitri's Mac X, Lucky 7, launched.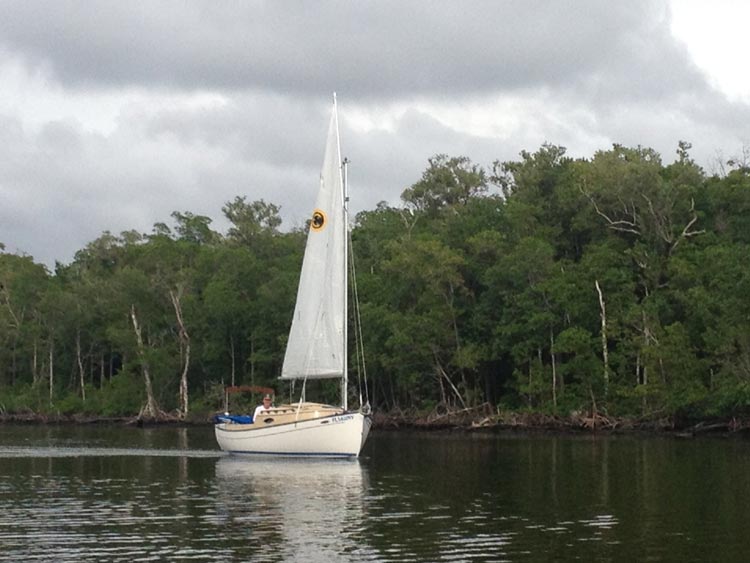 Billy VanDeusen's ComPac SunCat - SeaCat - on the Faka-Union Canal.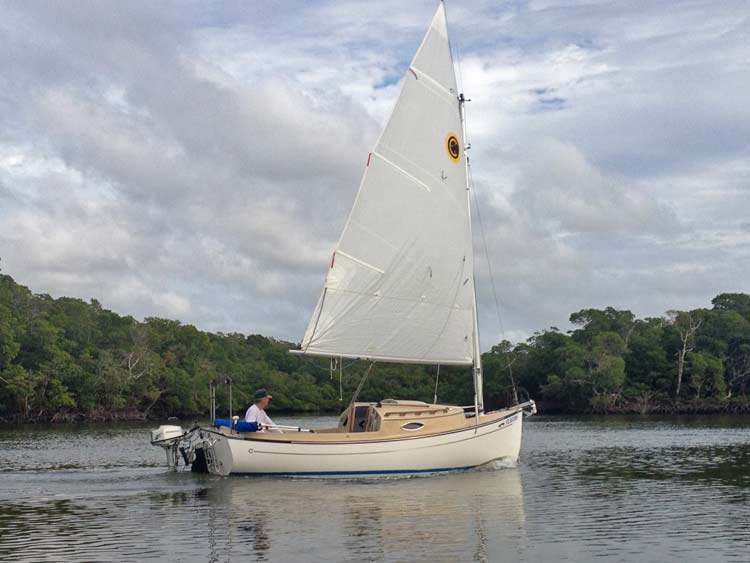 Billy's well found SunCat moving nicely under power and sail.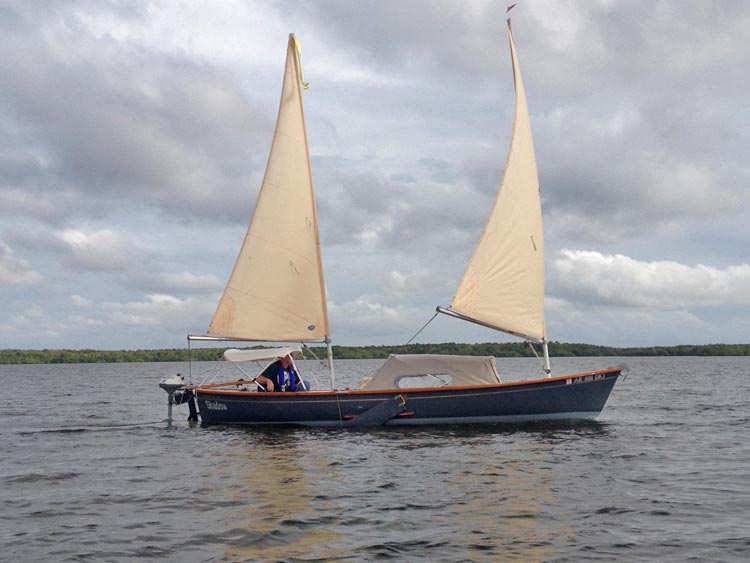 By Miller from Arkansas, sailing Shadow, his well travelled SeaPearl 21.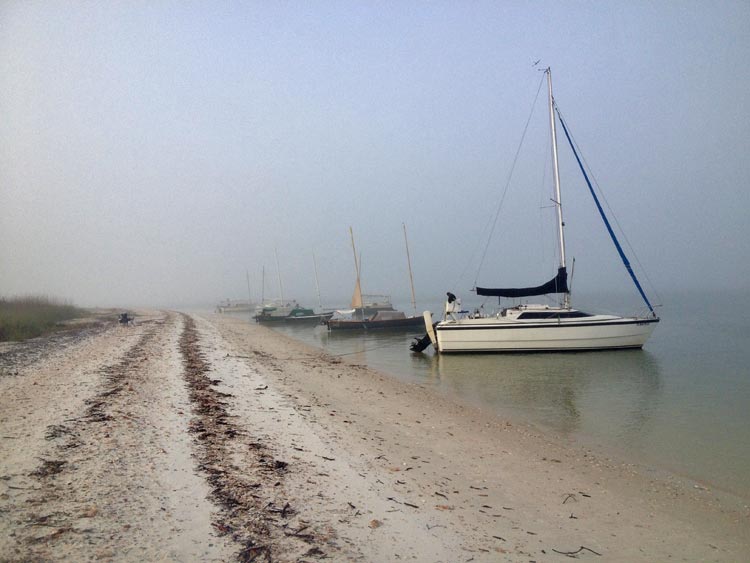 Friday morning was foggy!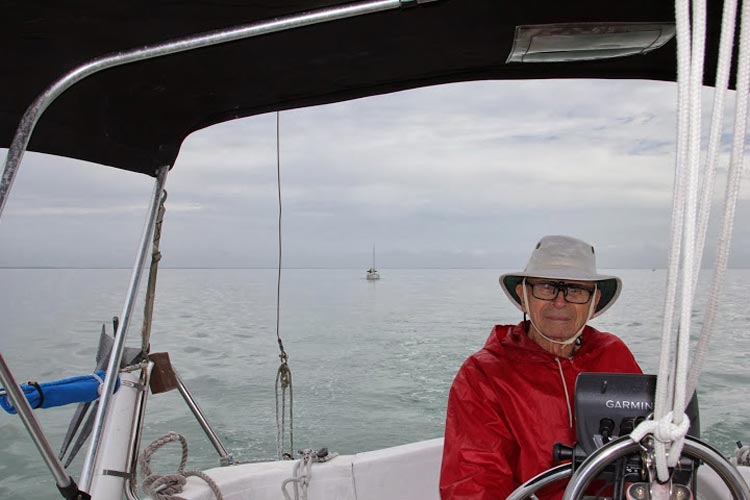 Art Gregory aboard Dimitri's Lucky Seven - on the way to Cape Ramano.
At the Cape, the SeaPearls beach it.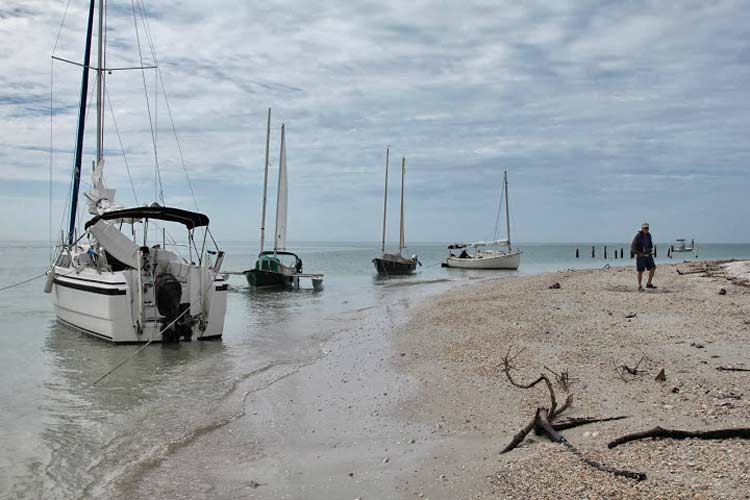 Four of our boats explored the Cape.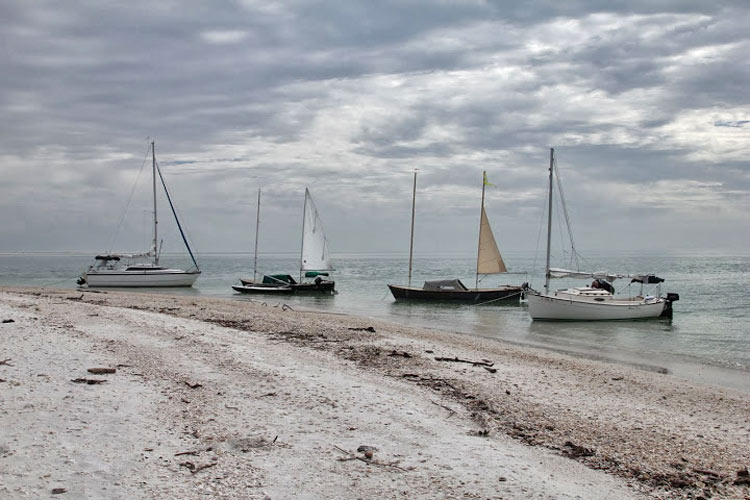 Tide was going out, winds were light. Couldn't stay long.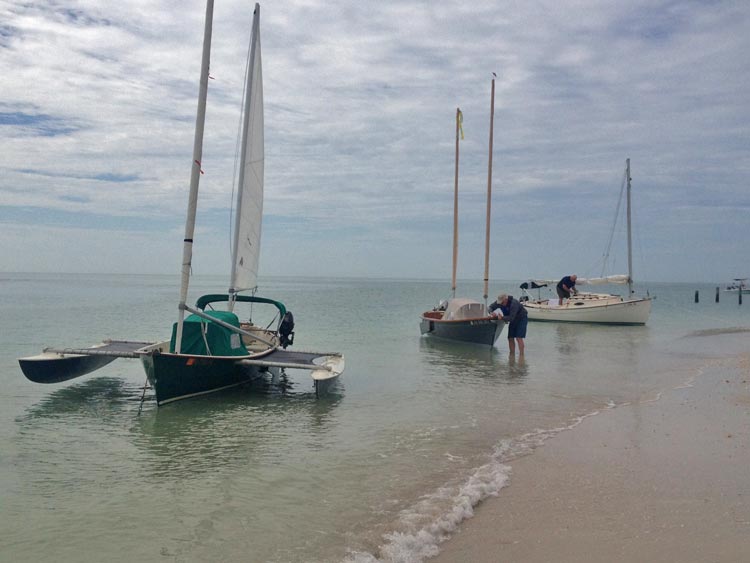 Whisper, Shadow, and About Time at Cape Ramano.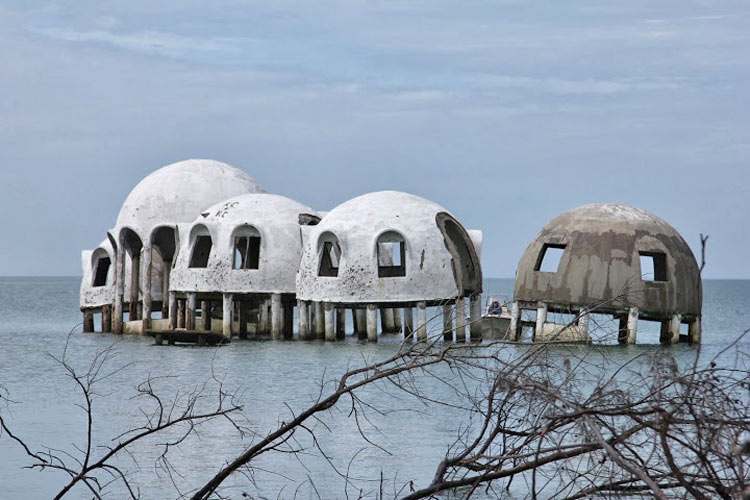 The Mrs. PacMen Dome Homes are now awash.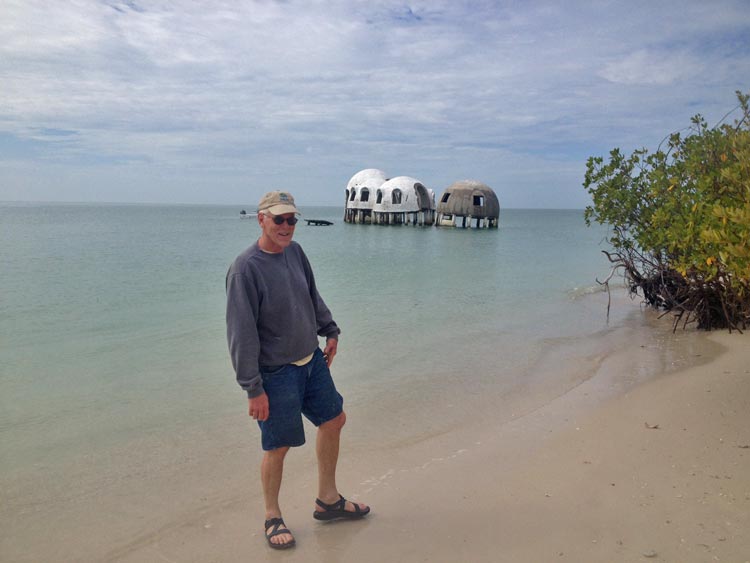 By had to get a closer look at this developer's disaster.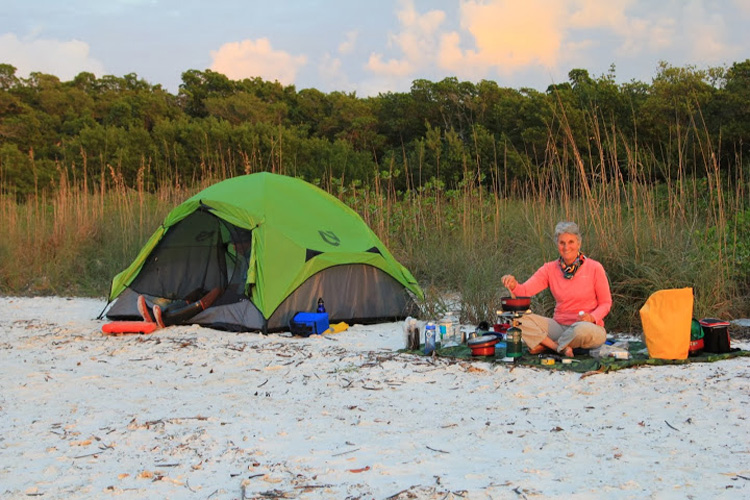 Meanwhile back at Panther Key, Colette John's was holding down the fort.
Dimitri aboard Lucky Seven.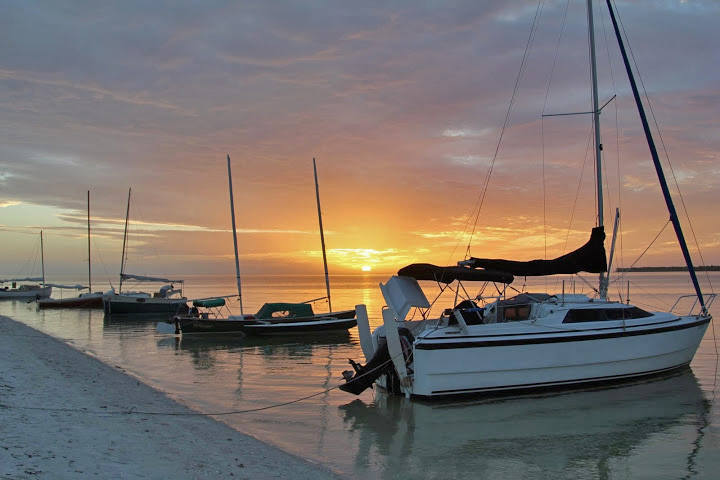 Sunset was spectacular!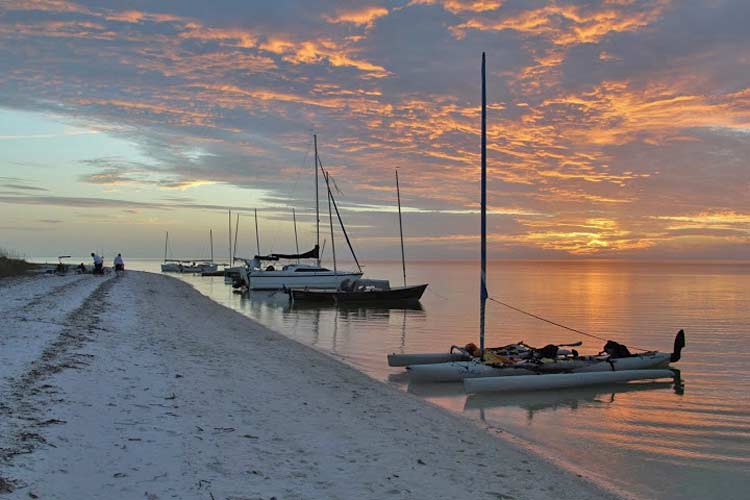 All eight boats in this photo!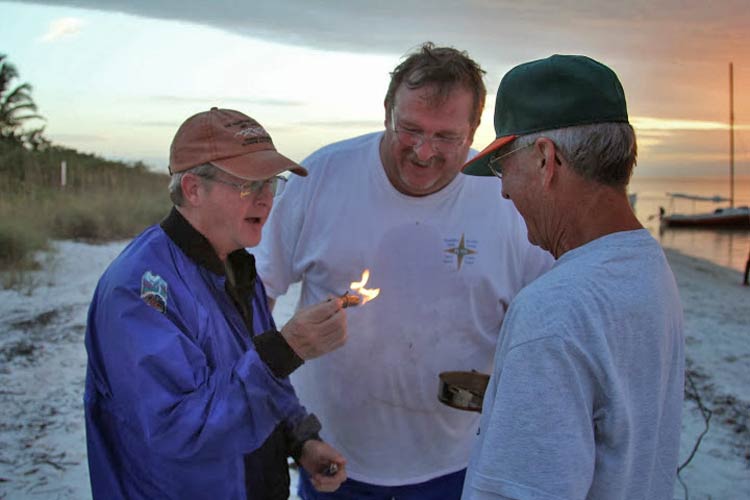 Chris Behnke had some rolled up newspaper soaked in wax for fire starter. Great idea!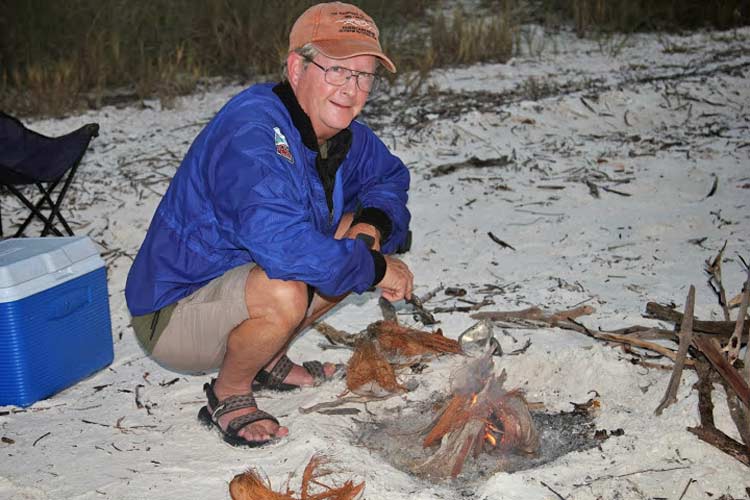 Chris' firestarter got some shredded coconut husks going and then we added wood.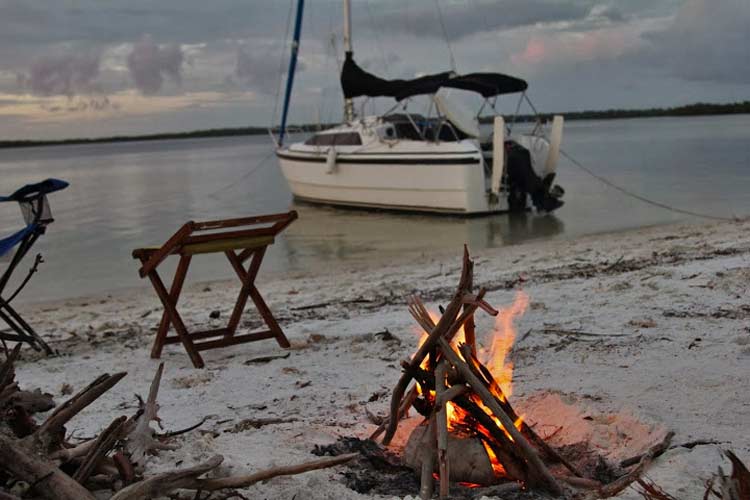 A warm beach fire that lasted long into the night with driftwood that we brought back from the Cape.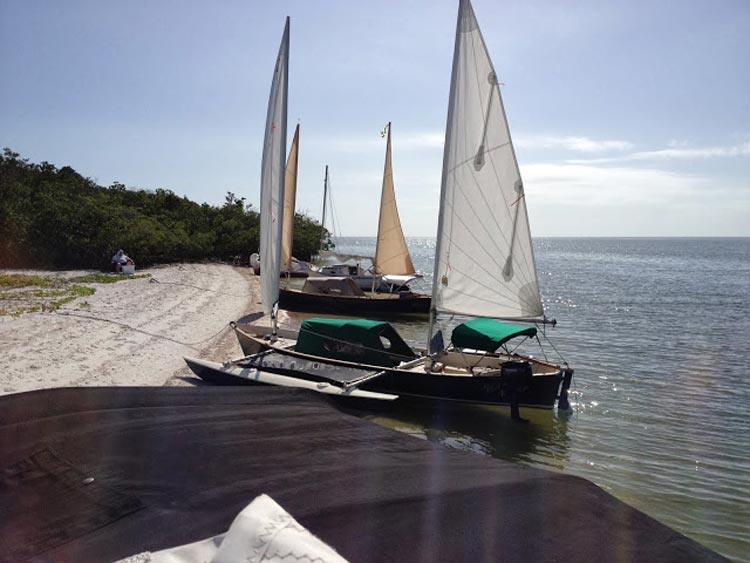 Saturday's trip to Picnic Key in the Everglades National Park - Six boats.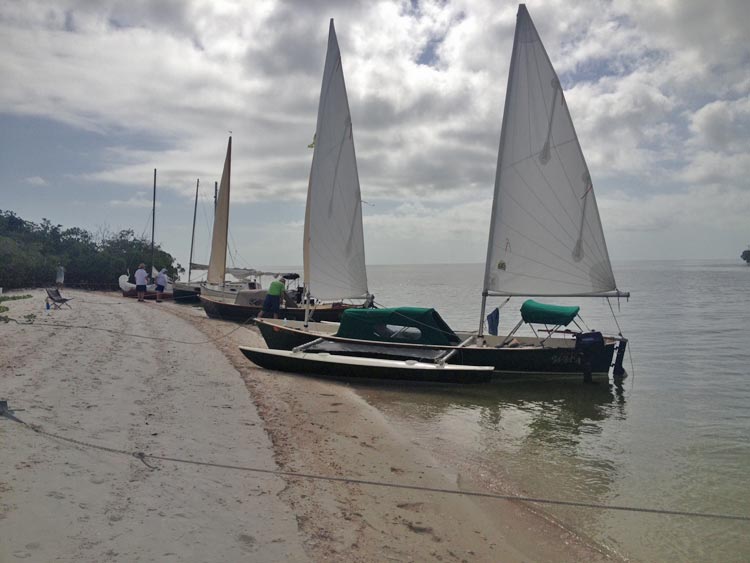 Easy landing on the beach at Picnic. Deep water 6 feet away from shore.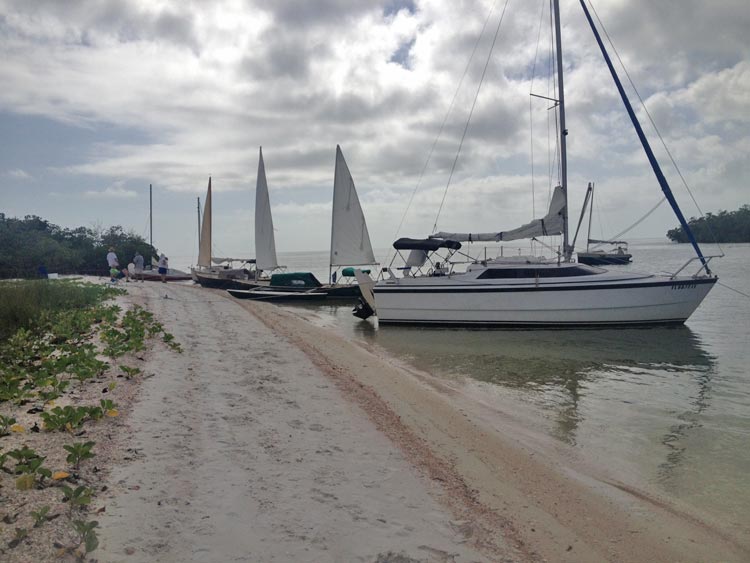 You can see Art's Peep coming in above Lucky Seven's foredeck. He had just crashed into the mangroves of Tiger Key.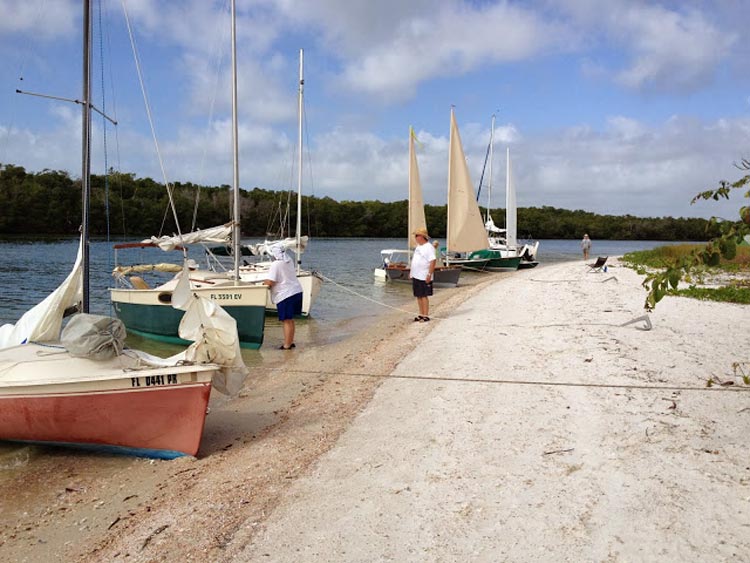 Chris' O'Day DS2 in foreground. Chris is helping art remove the mangrove branches.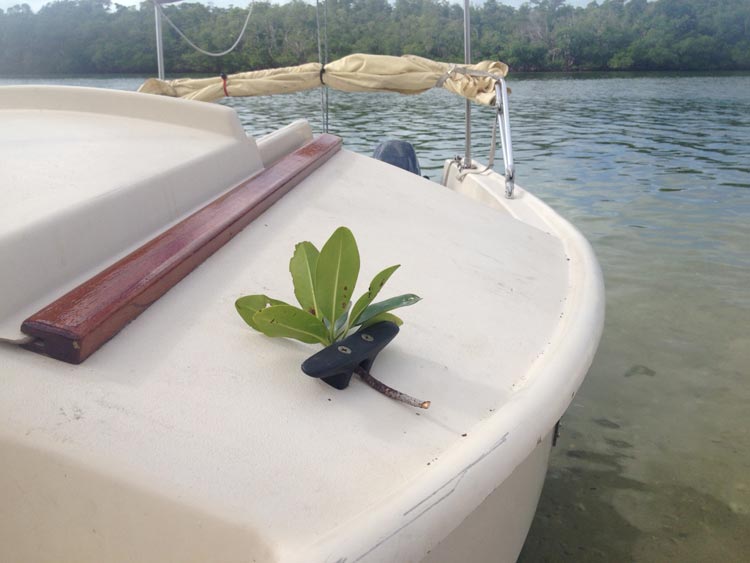 Well, not all of them. We thought he should keep a few for reminders to look where you're going.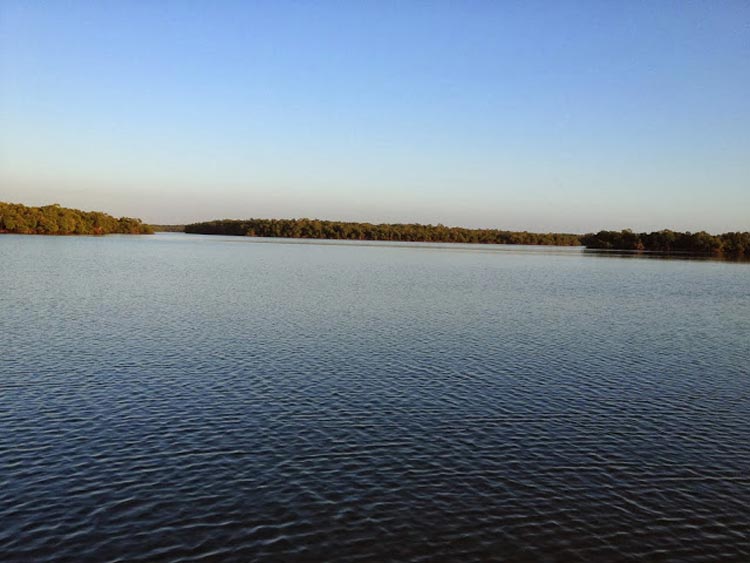 Hey! Where are we? All these islands look alike! (almost)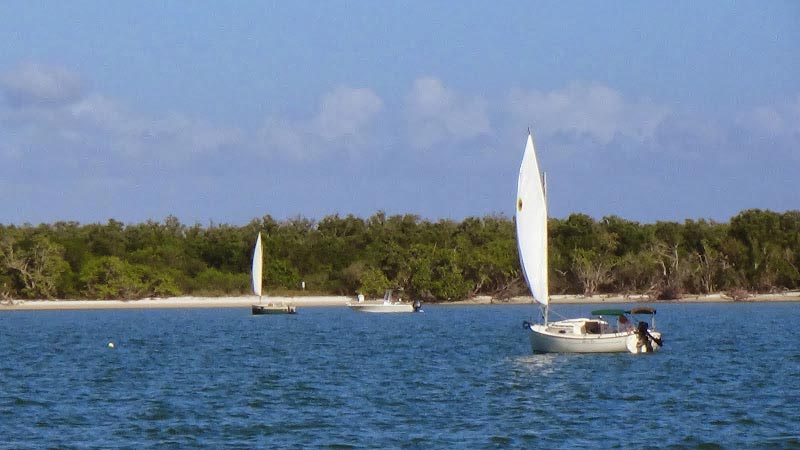 Art's Peep Hen, Kiva, and Jack's SunCat, About Time, returning from Picnic Key.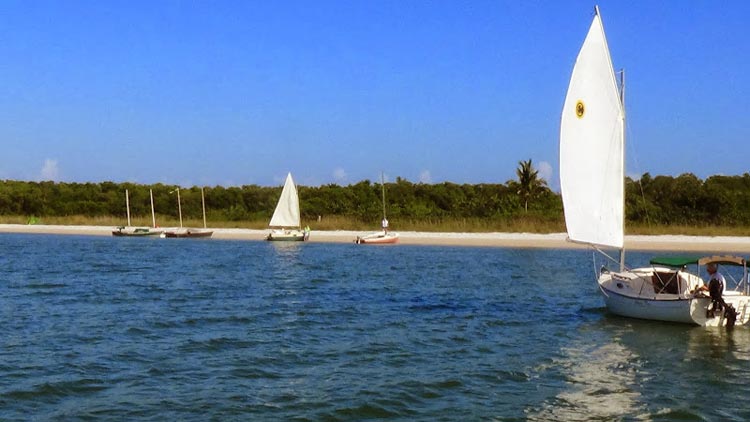 The Squadron is making a shore landing back on Panther Key.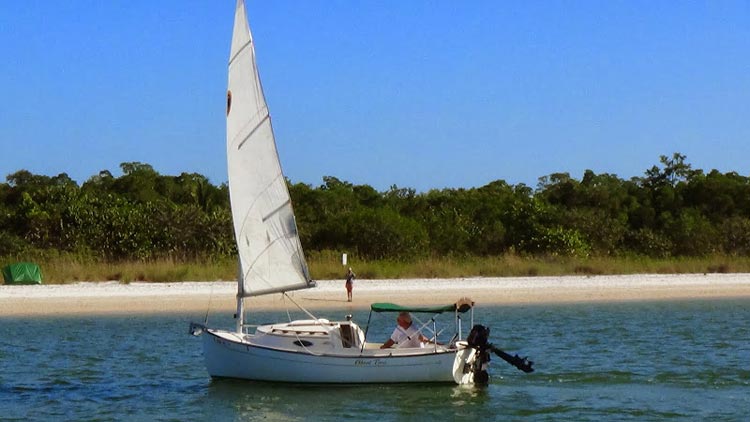 Nice shot of Jack Dirkes' SunCat - About Time!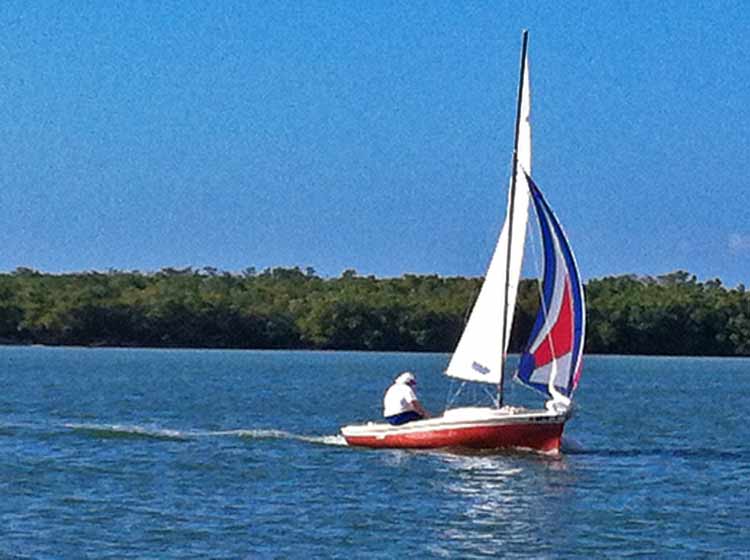 Chris Behnke flying his reacher at high speed.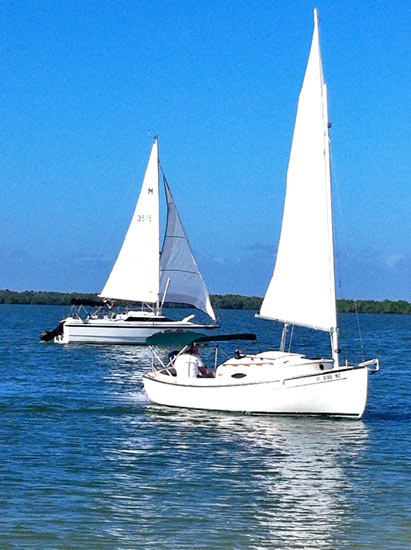 Lucky 7 and About Time returning to Panther Key.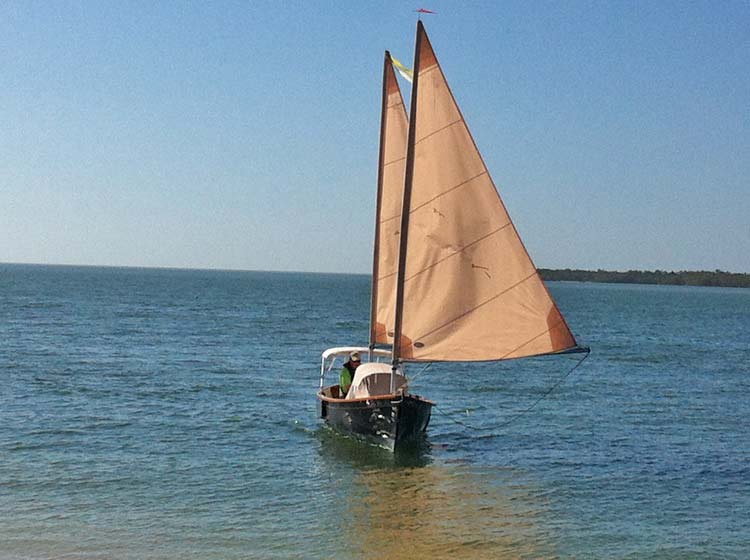 By Miller's Shadow easing up to the beach at Panther Key.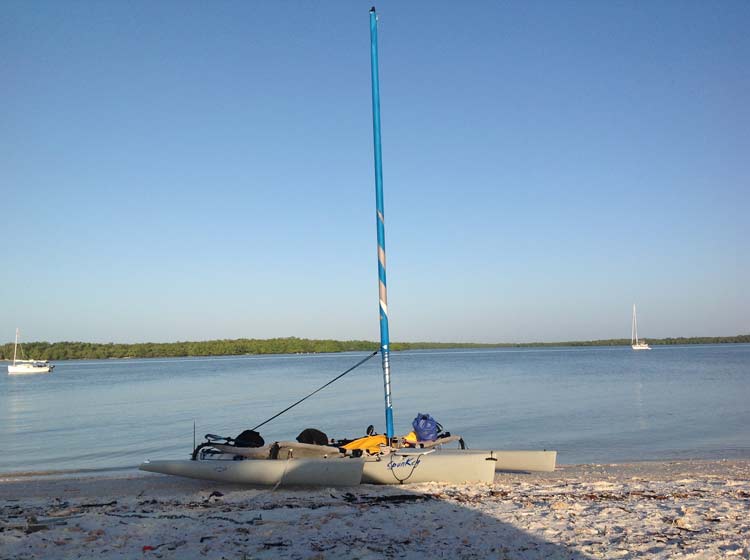 SpunKey, John and Colette's Hobie Tandem Island at rest.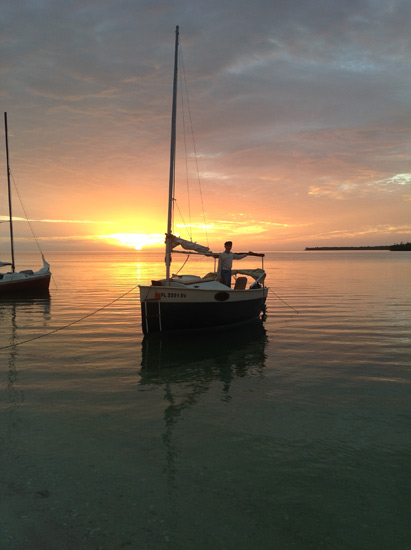 Art Gregory and his Peep Kiva at sundown!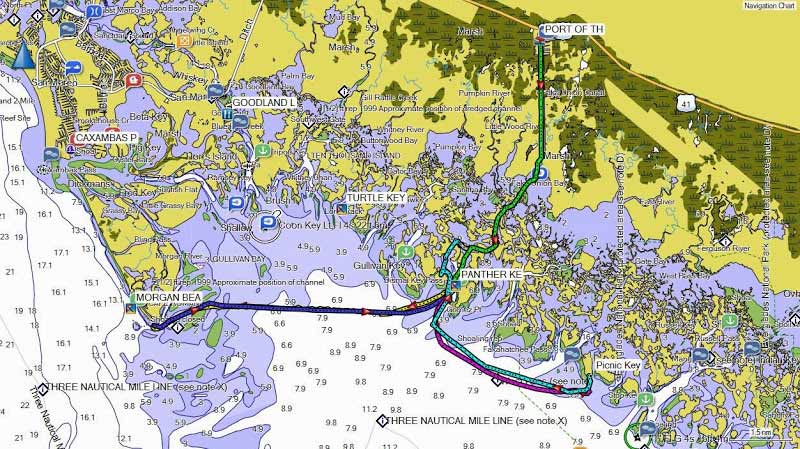 Dimitri's track of our Thursday - Sunday trip to the 10,000 Islands.