Erie Canal Trip with Ron Hoddinott, Dale Niemann, Phil Reed and By Miller
aboard Daycare, Little Bit, and Nomad
Photos by Ron Hoddinott and Dale Niemann
June 16-22, 2014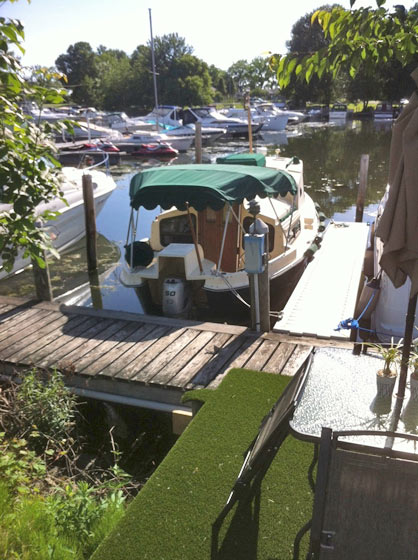 Nomad a 25' trawler yacht at home at Hibiscus Harbor on Lake Cayuga, NY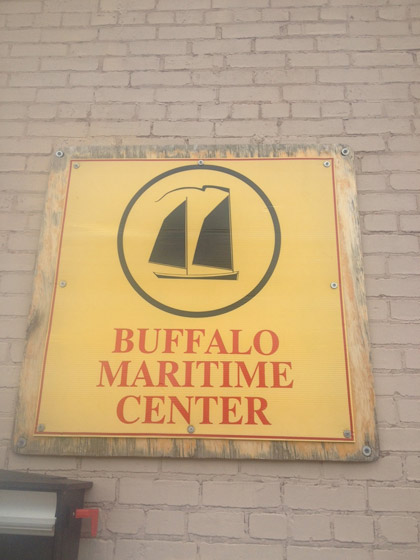 Buffalo Maritime Center - to meet Roger Allen former Curator of Cortez Museum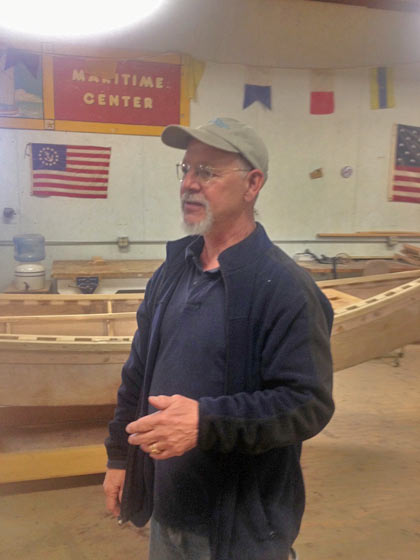 Rodger Allen - huge facility and big ideas!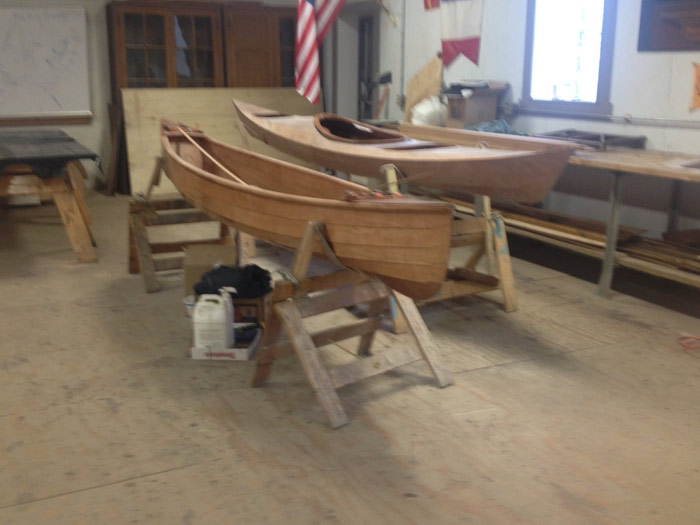 Student work at the Maritime Center.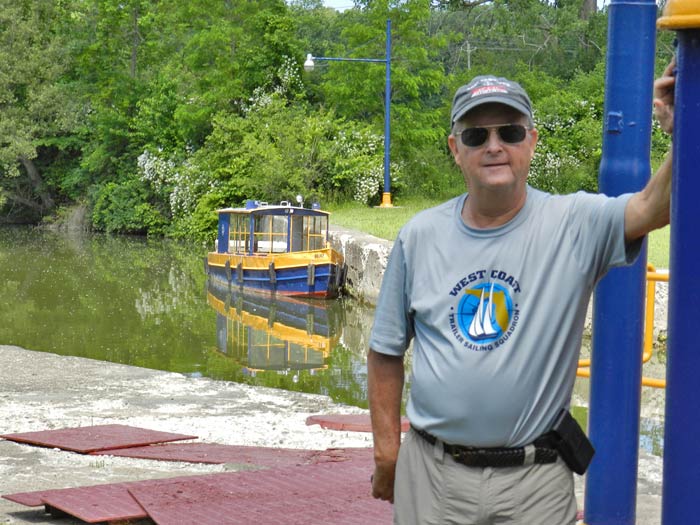 Ron and Dale inspect the locks on the way to pick up Nomad.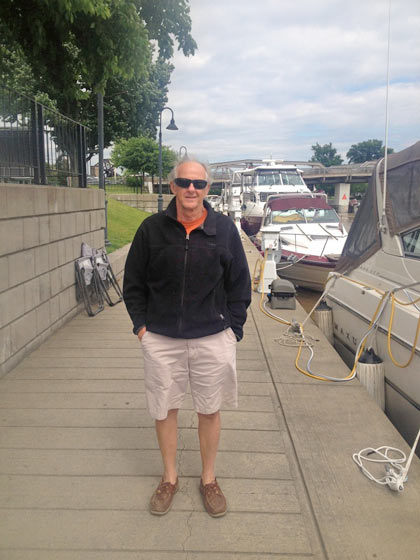 Dale at the Tonawanda wall of Erie Canal near Buffalo.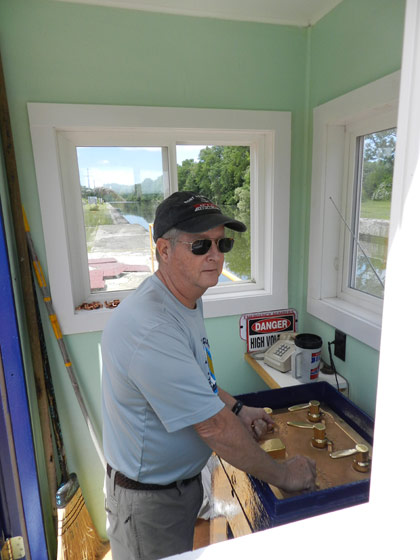 Friendly Lockmaster showed us how to open valves and gates to lock a boat through!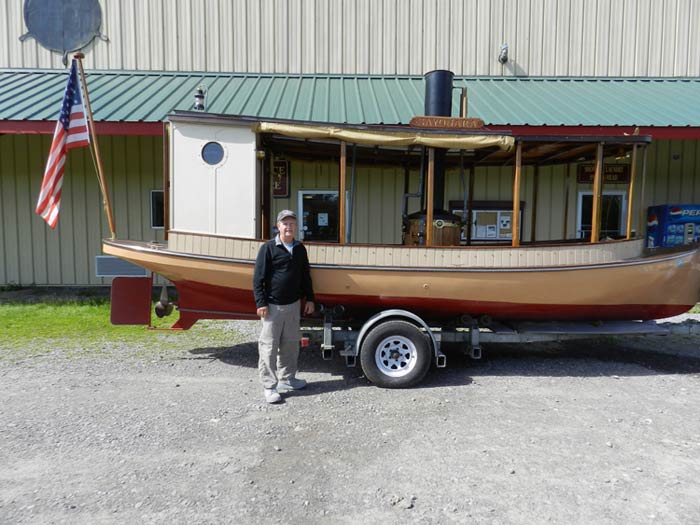 Met a steamboat going to a steamboat regatta!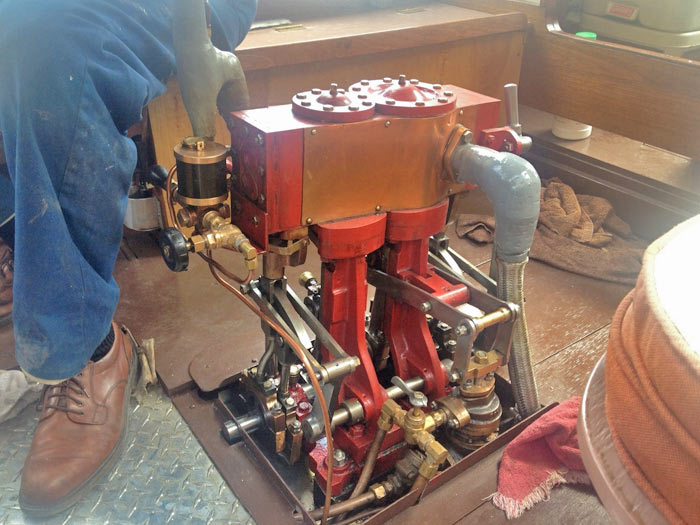 Steam engine. Boiler not shown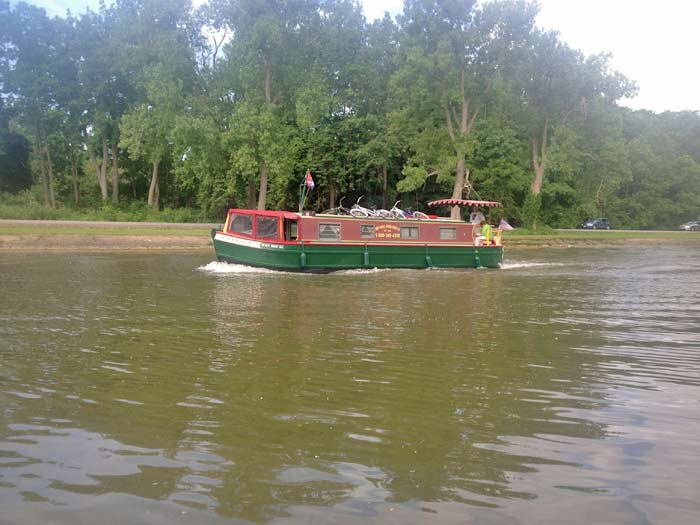 A 42 footer from Mid-Lakes Navigation. $3000/week - sleeps 6.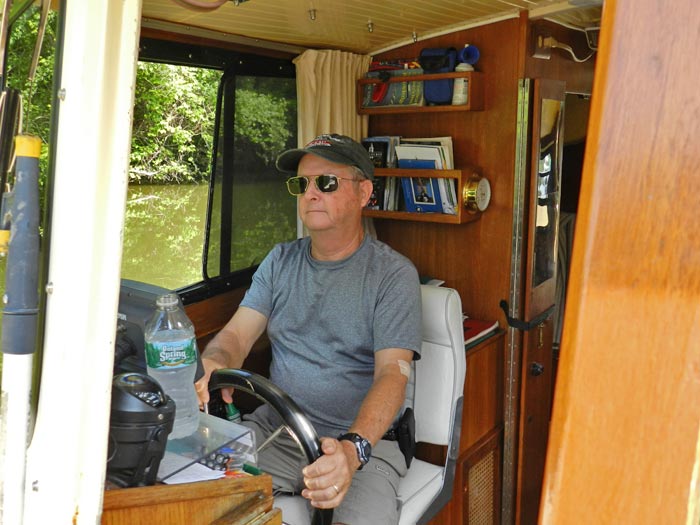 Underway aboard Nomad. Slow and steady at 5.6 knots and 2200 RPM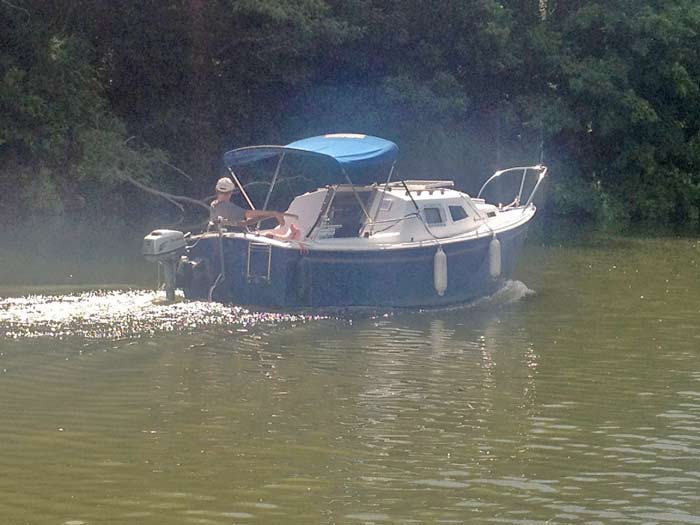 Phil Reed and Lil' Bit, his Potter 19 sans mast. He came up a week ahead of us and scouted out the good pizza.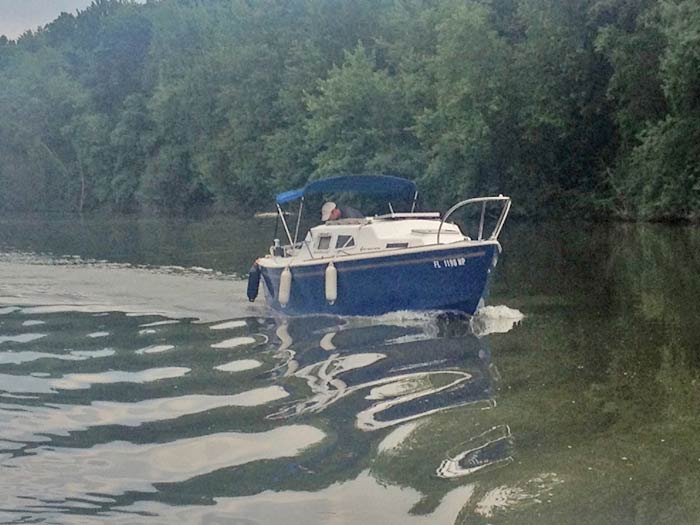 Phil kept up with us easily.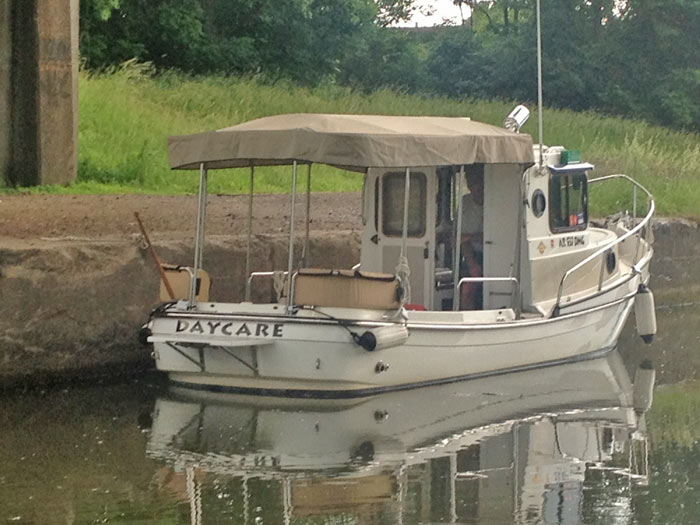 By Miller was waiting for us under a bridge - staying away from a stray shower. Ranger 21 Tug with diesel engine by Yanmar.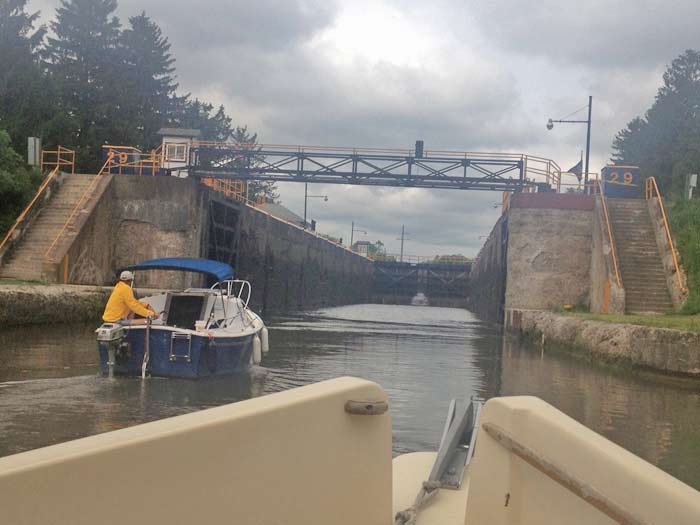 Typical lock on the Erie - Phil leads the way. Hang onto the ropes with gloves and push away with boat hook.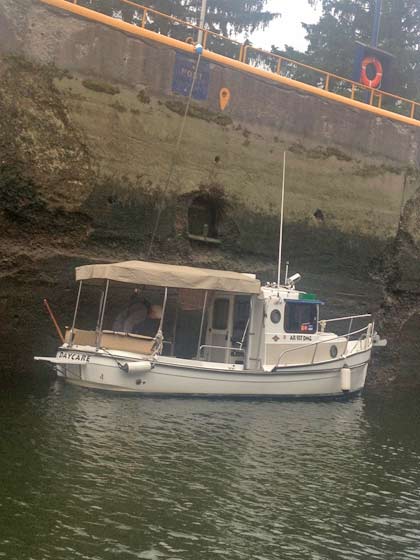 By managed the lock without help.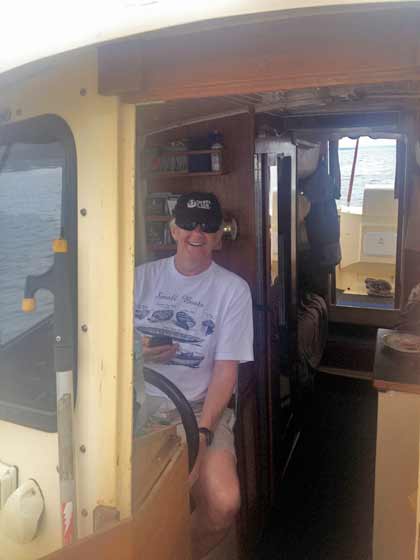 Dale enjoying steering the Nomad.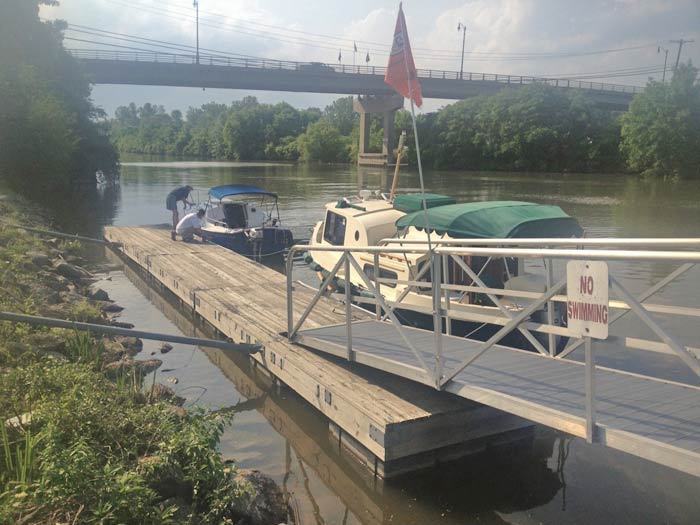 First night out - Clyde NY. water, electric, rest rooms, and pump out (not needed) all free. (This is the norm on the Erie)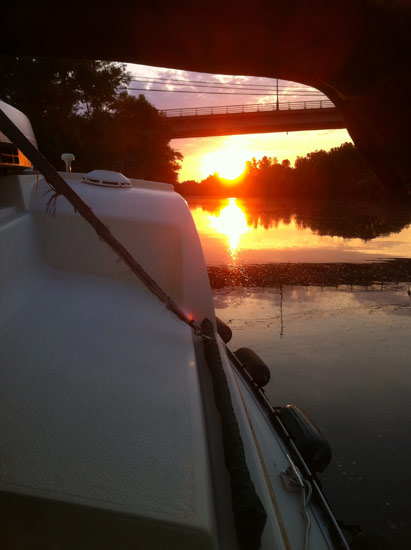 Clyde Sunset looking west down the canal.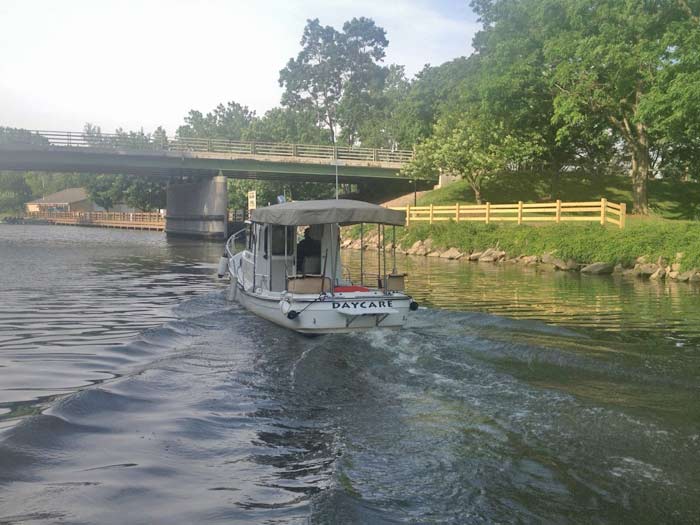 Typical bridge on the Erie - By powers along in "Daycare."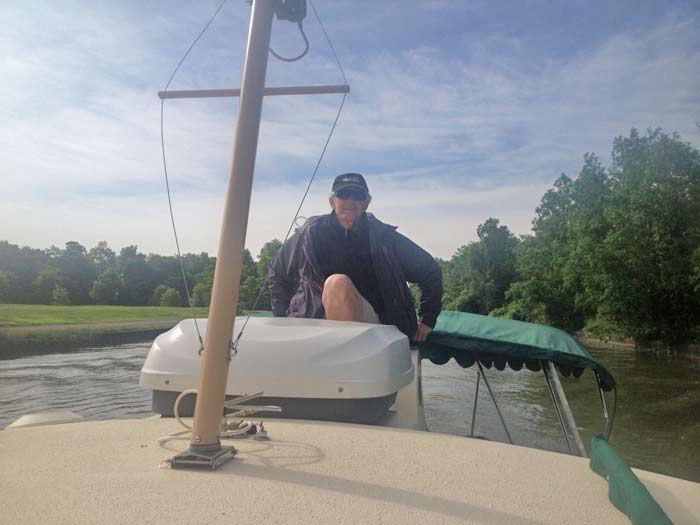 Dale's on a perch above the rear door of Nomad. Note air conditioning.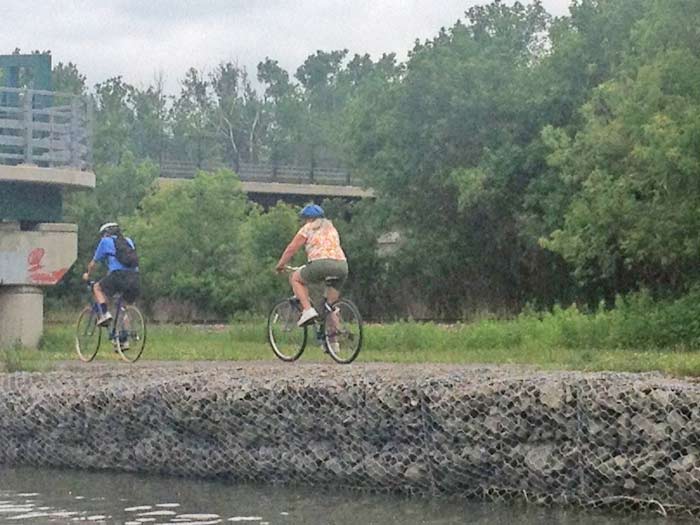 Bike riders pass us on the "towpath" bike trail.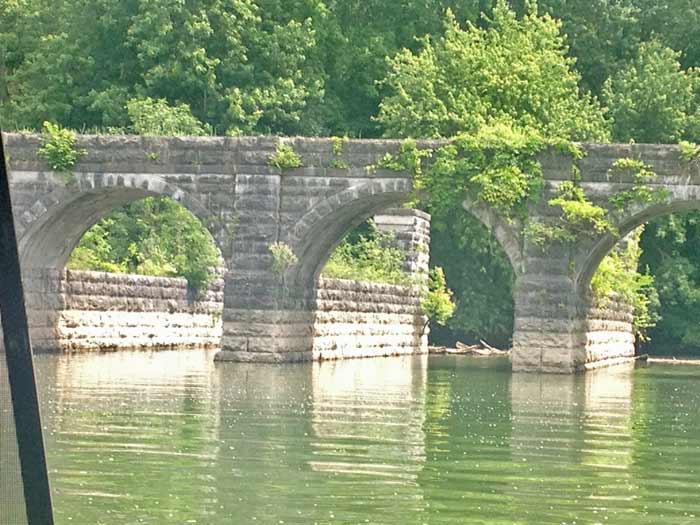 An Aquaduct - relic of the OLD Erie Canal - carried water AND the Canal Boats!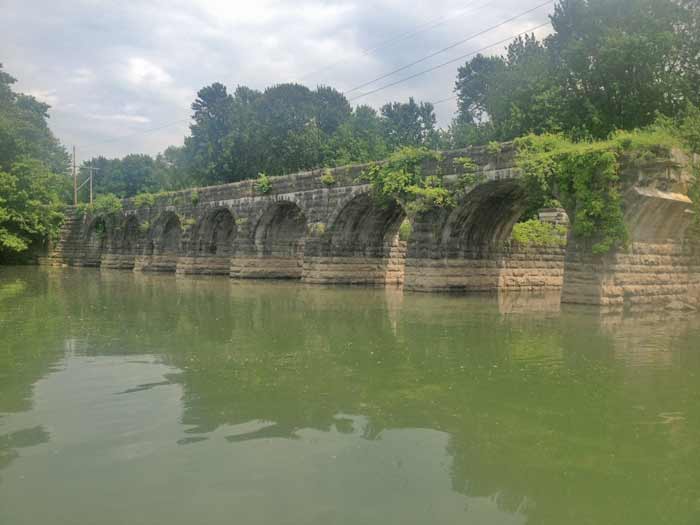 Another view of the canal aquaduct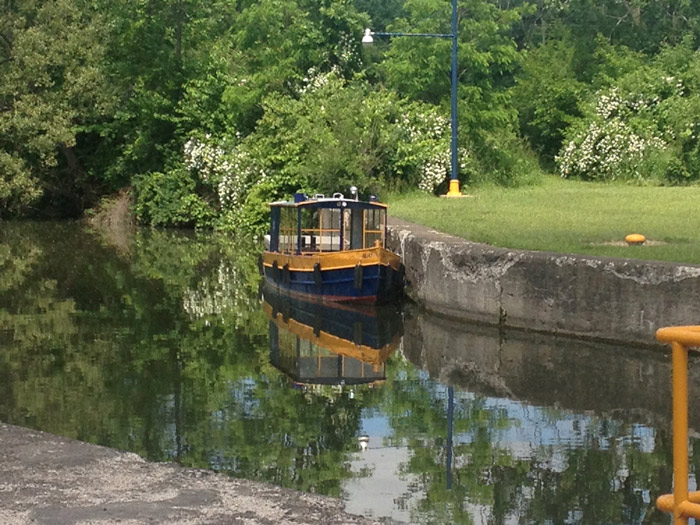 A canal lock work boat - my favorite photo of this trip!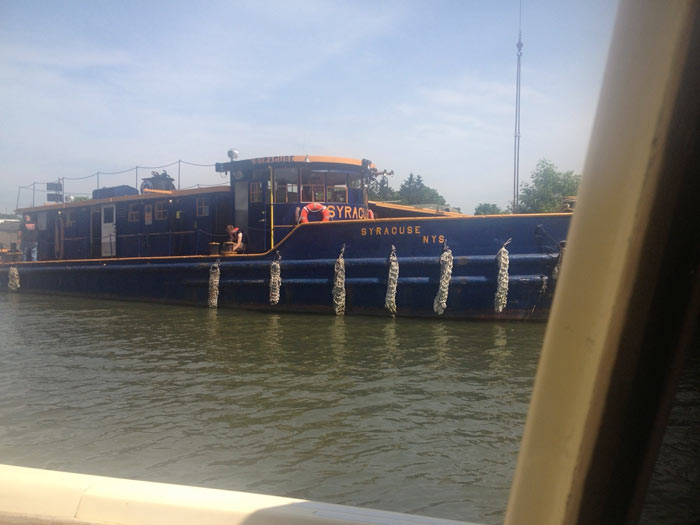 Passing the Syracuse - a canal tug, and the largest boat we encountered.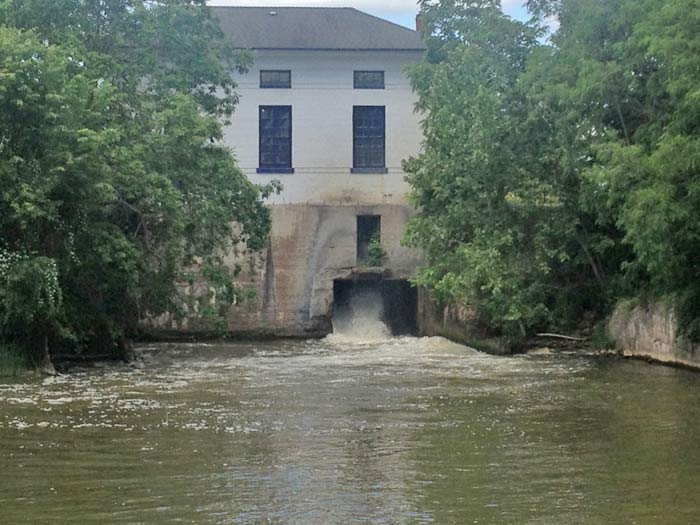 The abandoned power house at lock 29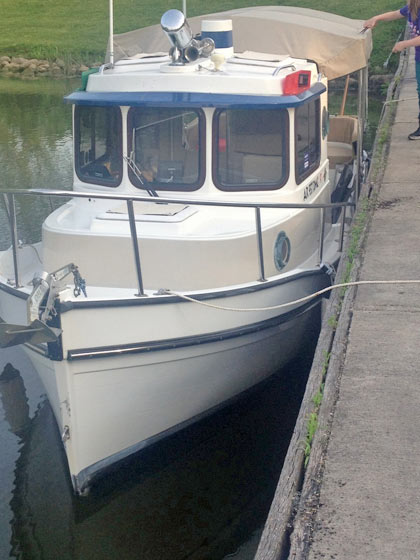 By's Ranger 21 Tug along the wall at Palmyra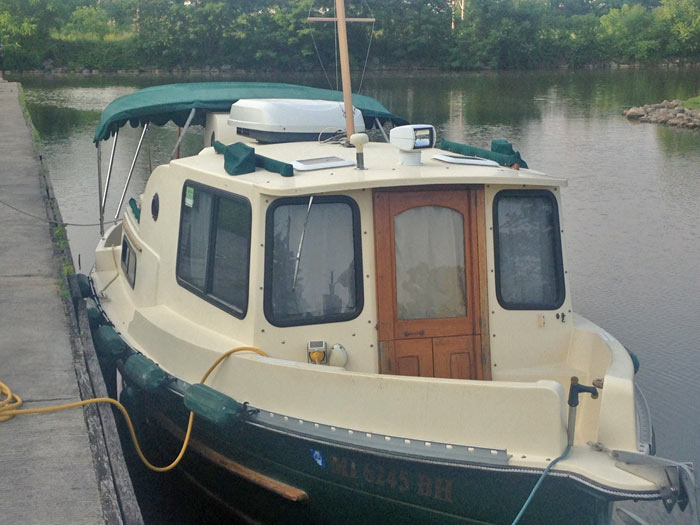 Nomad at Palmyra - an off canal snug marina with facilities and good coffee! Note shore power for AC.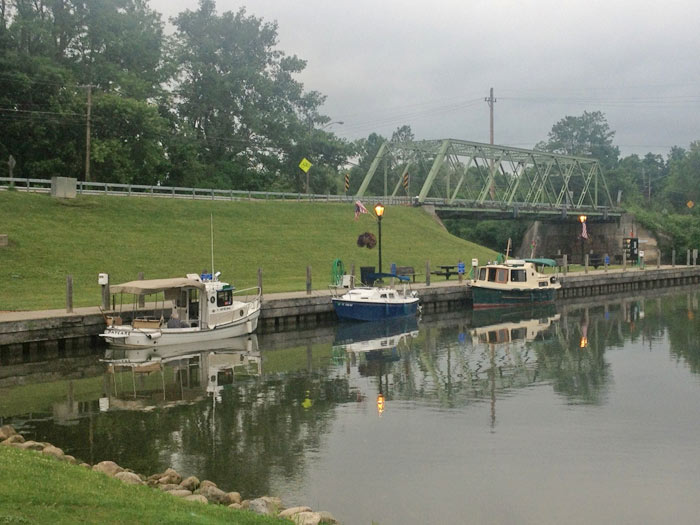 Four WCTSS sailors on three boats at Palmyra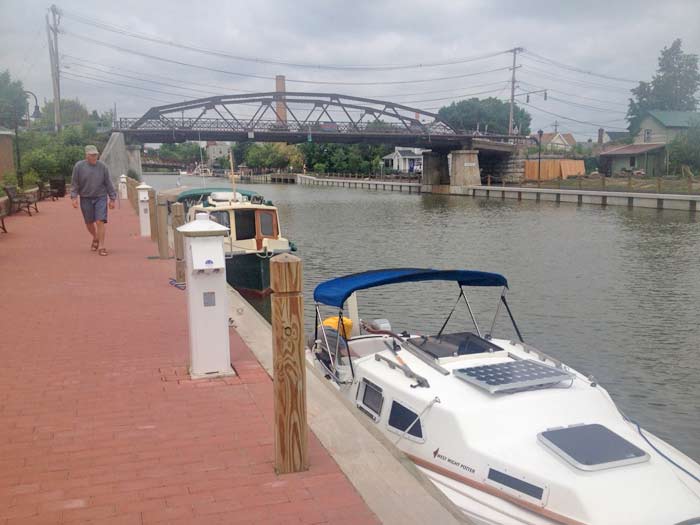 A typical town docking situation.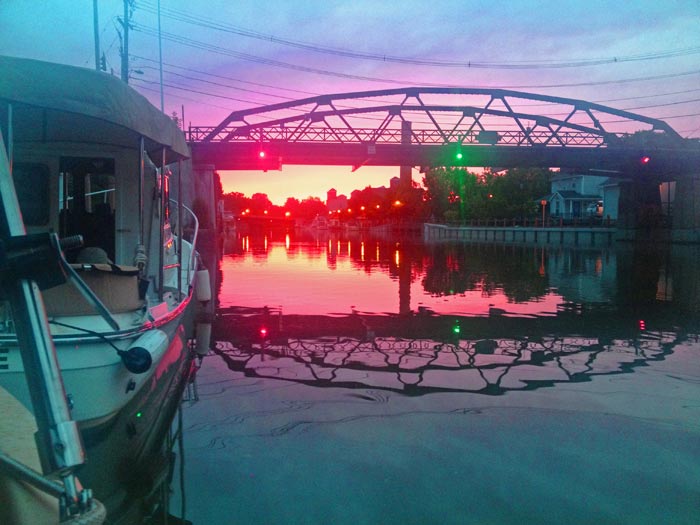 Sundown in Fairport Village. Yes, it really looked like that!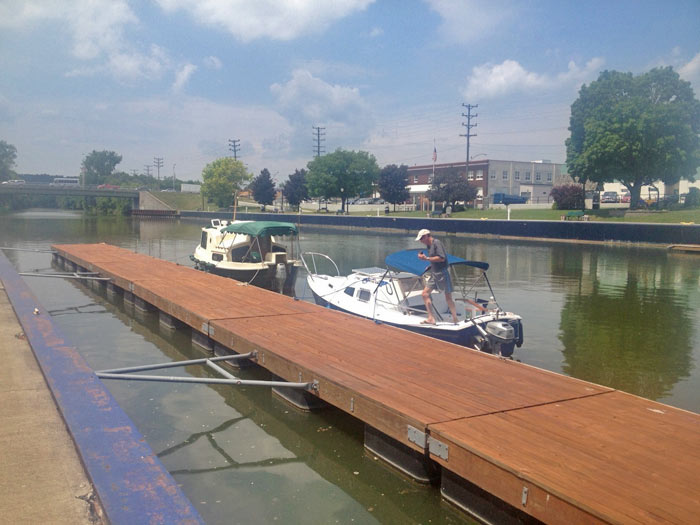 Stopped for lunch at Newark.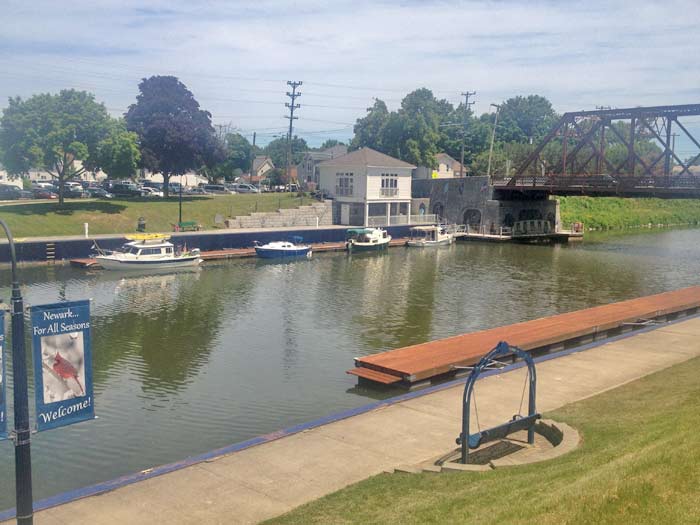 Newark other side. MacDonalds close by here.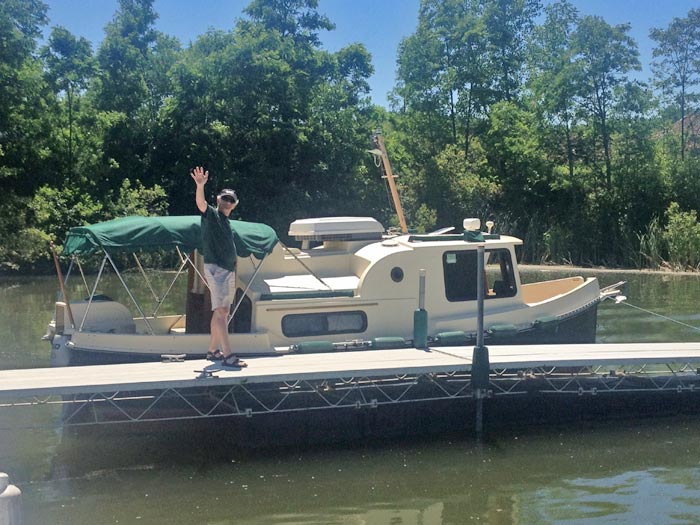 Dale waves before boarding at Macedon Mid-Lakes Marina where we took on 8 gallons of fuel after four days of motoring!
We also met Squadron friends Lee and Katie Martin, who trailered their Nomad here for a two month cruise of the Erie.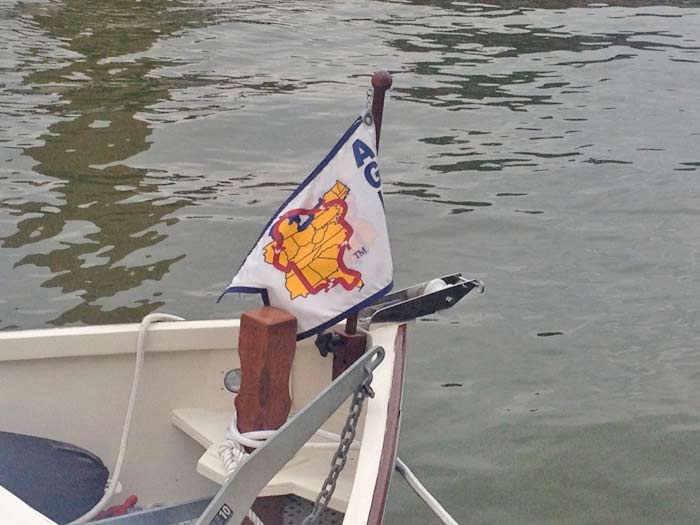 Looper flag aboard Atla - a Nordic Tug doing the GreatLoop.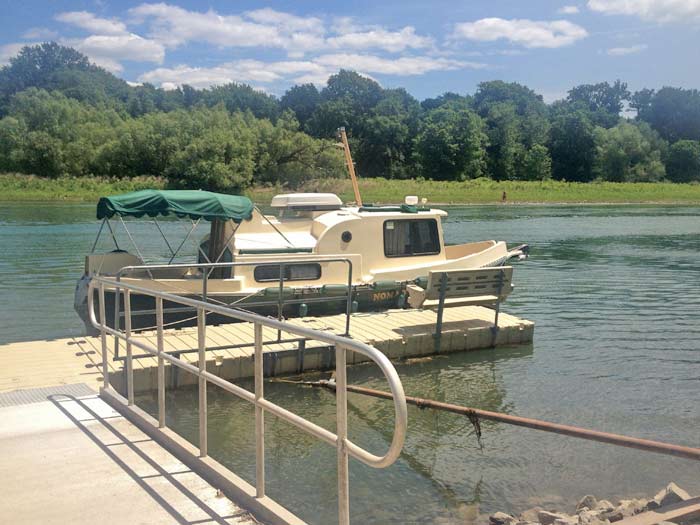 Nomad on floating dock at Montezuma Wildlife Refuge - Cayuga Seneca Canal.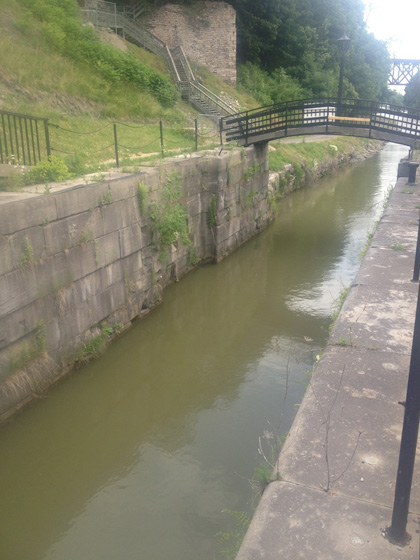 A section of the 1st upgrade of the original 1824 canal - at Lockport. 12 feet wide.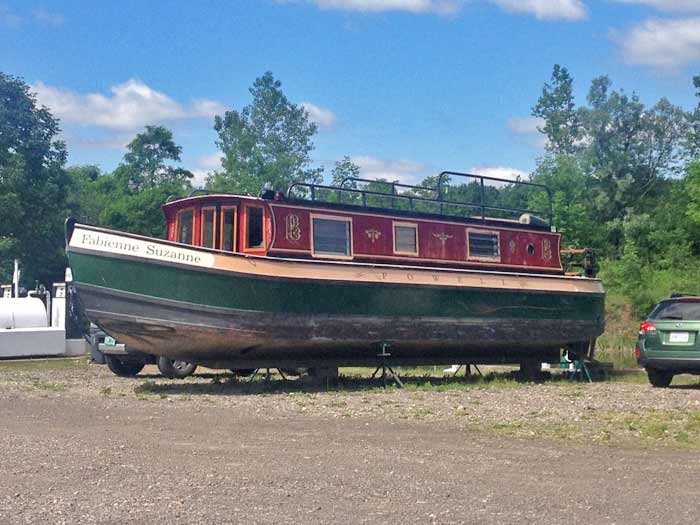 Packet Boat for hire at Mid-Lakes Macedon - Getting ready for the season.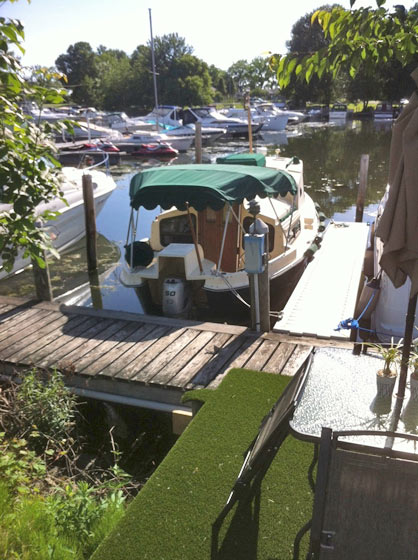 Nomad back home again at Hibiscus Harbor off of Lake Cayuga
Thanks to Mark Stevens of Cruise-USA for this unique experience!