Cayo Costa Cruise - March 22-24, 2019
Photos by our great photographers!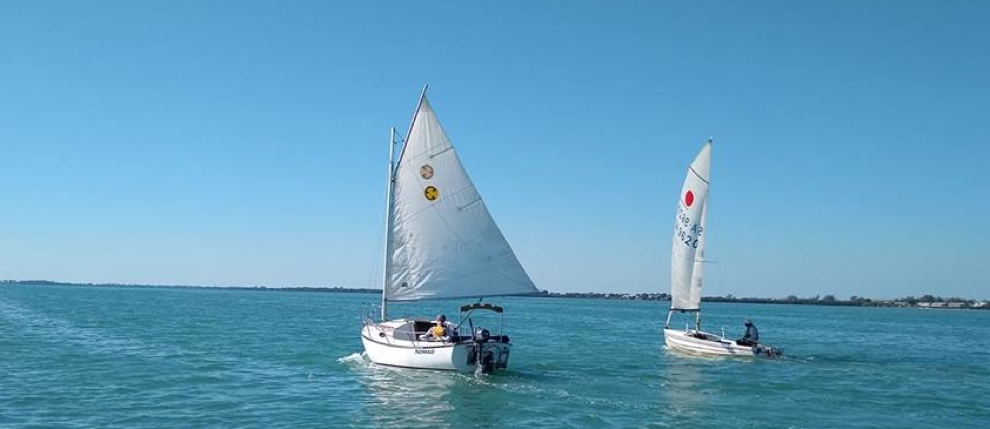 Ron's Nomad, and Dan's Wayfarer, Truant, on Friday morning - heading out for Cayo Costa. Photo by Craig Stiles.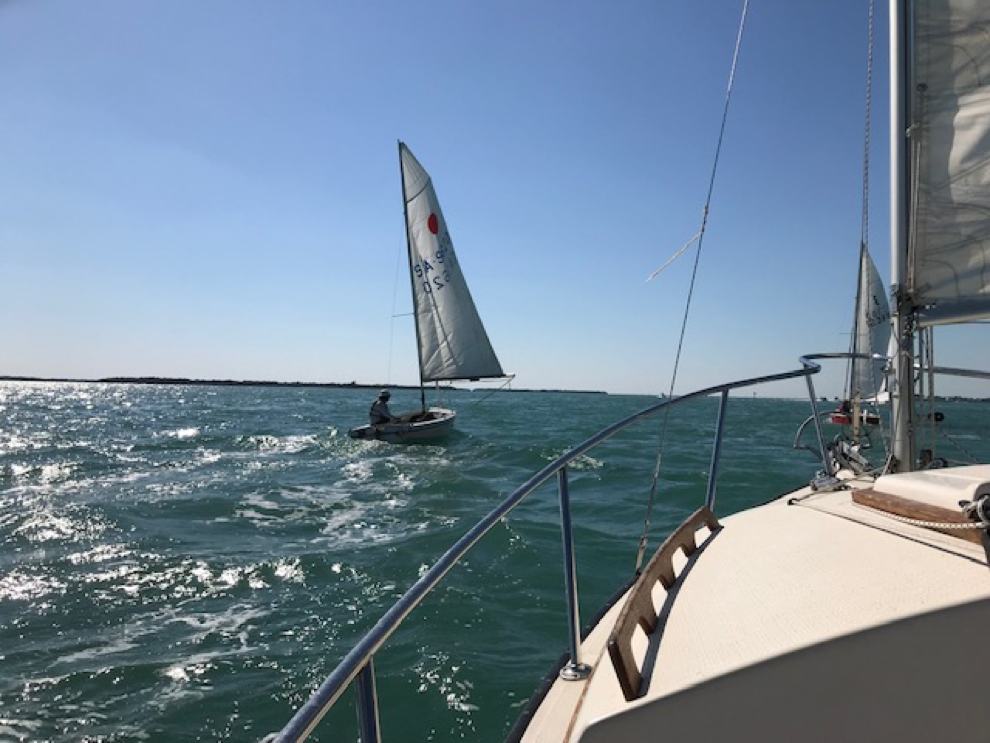 Breezing Up.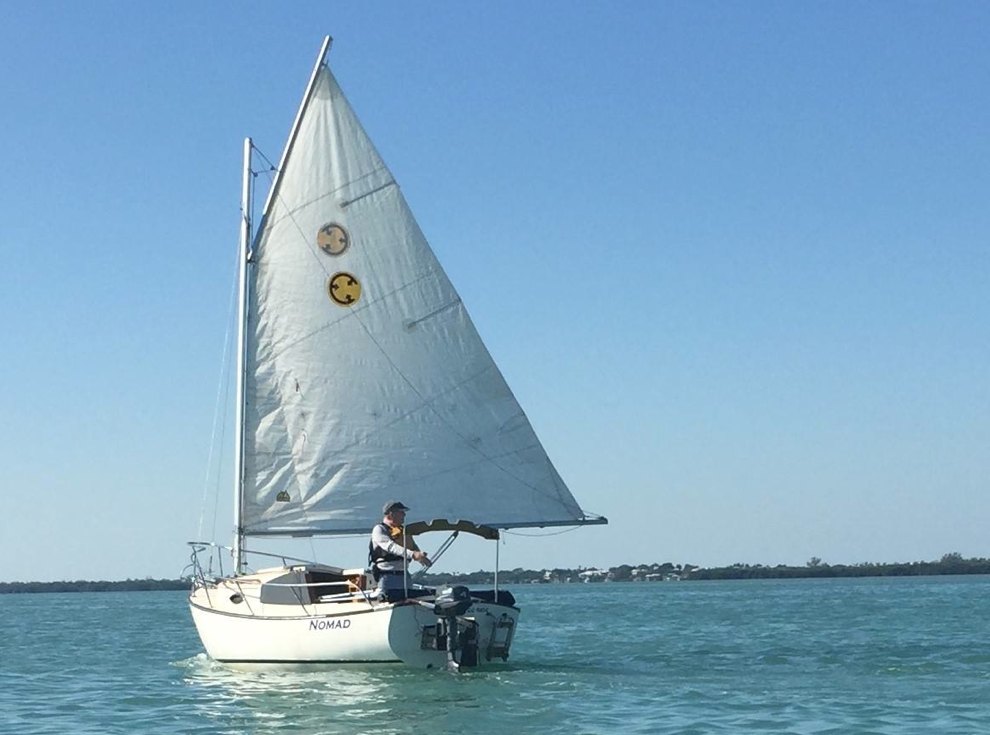 Rigging the auto pilot - note lifejacket is on. Good practice for solo sailors!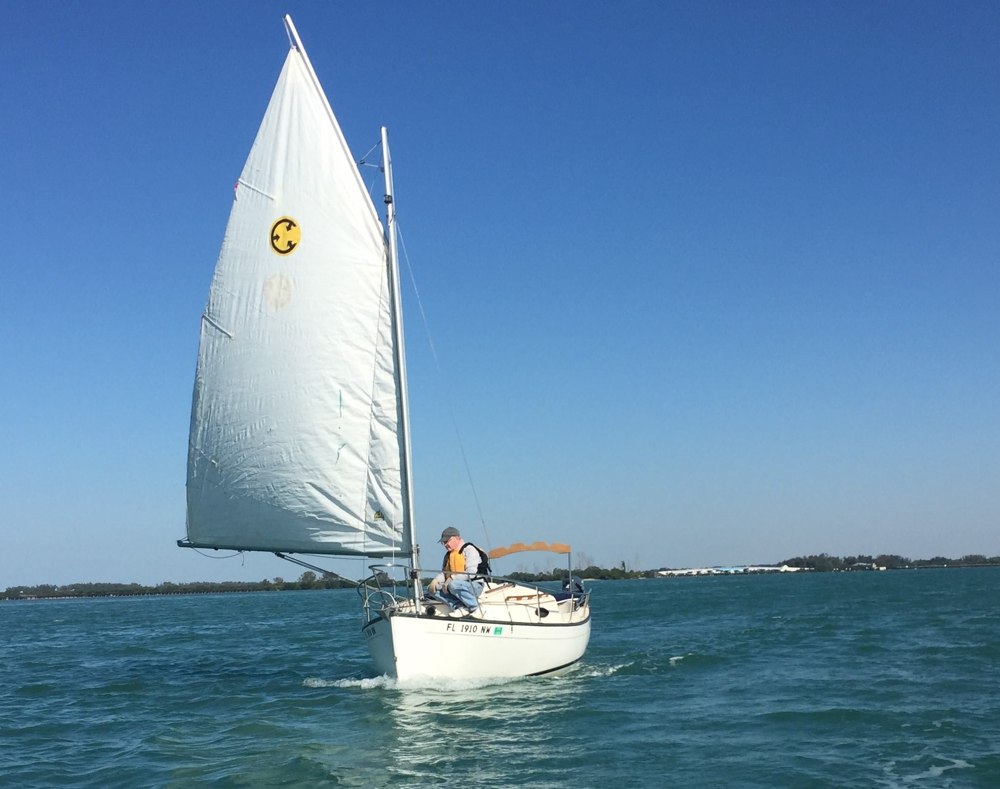 Adjusting the downhaul or clearing the docklines on the foredeck. Otto is steering.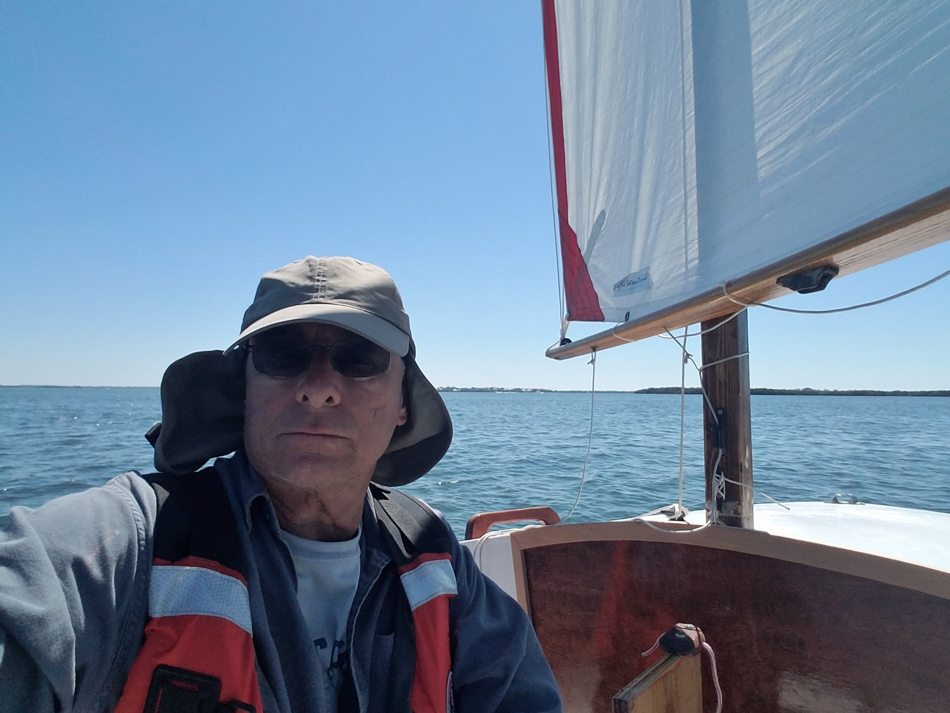 Lonnie Black aboard Lil' Gunker - His 9 foot cruiser!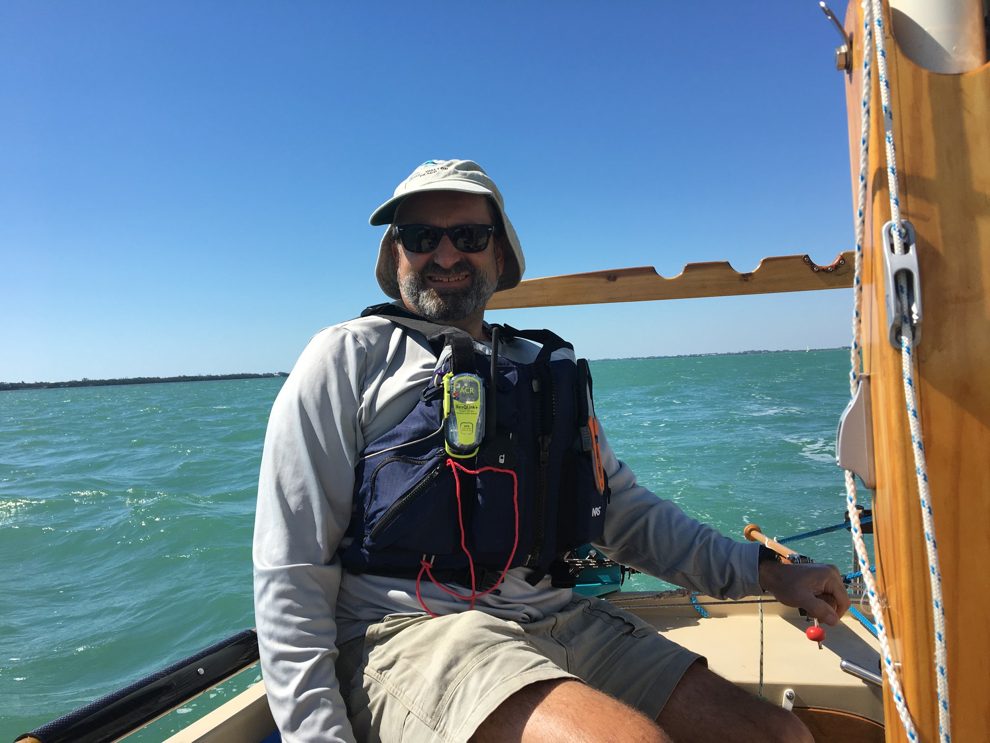 Dimitri Krinos steering his Core Sound 17 MK III toward Cayo Costa's Pelican Bay. Note his PLB on lifevest.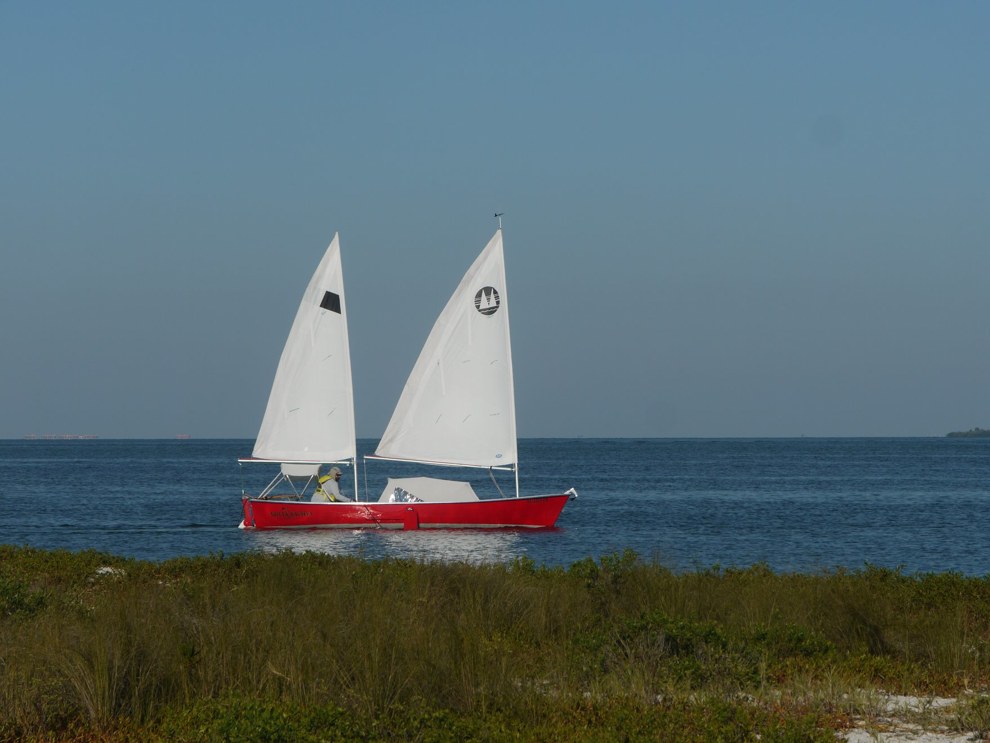 David Heckman coming into Pelican Bay aboard his SeaPearl 21.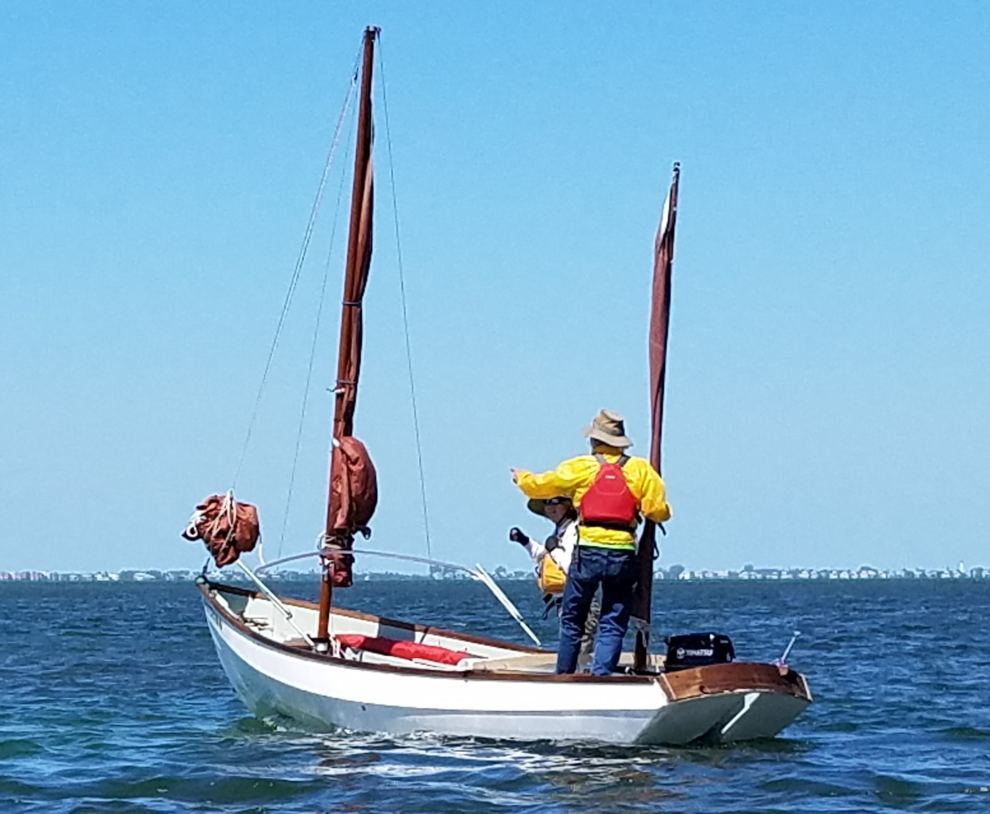 Kirk and Nancy with their new Drascombe Lugger 18.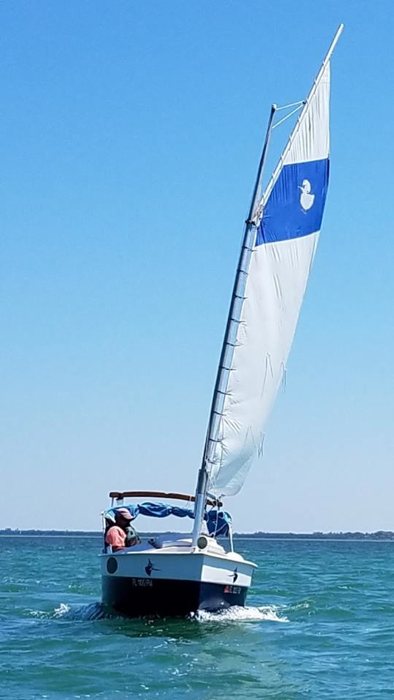 Dale Young and his Peep Hen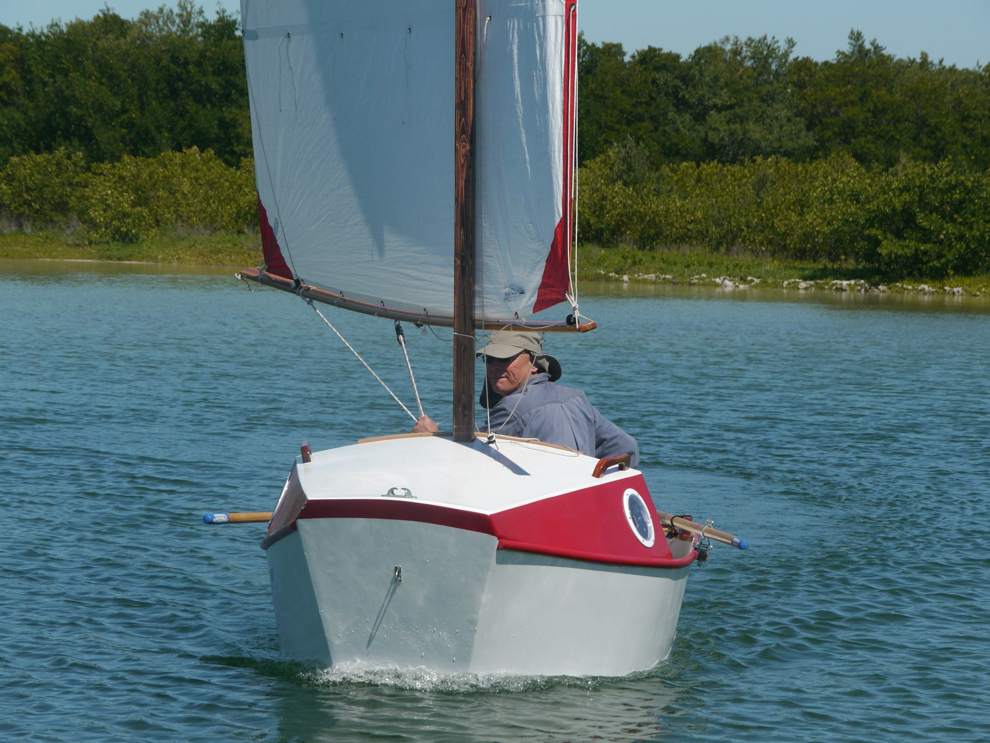 Lonnie approaching a beach landing.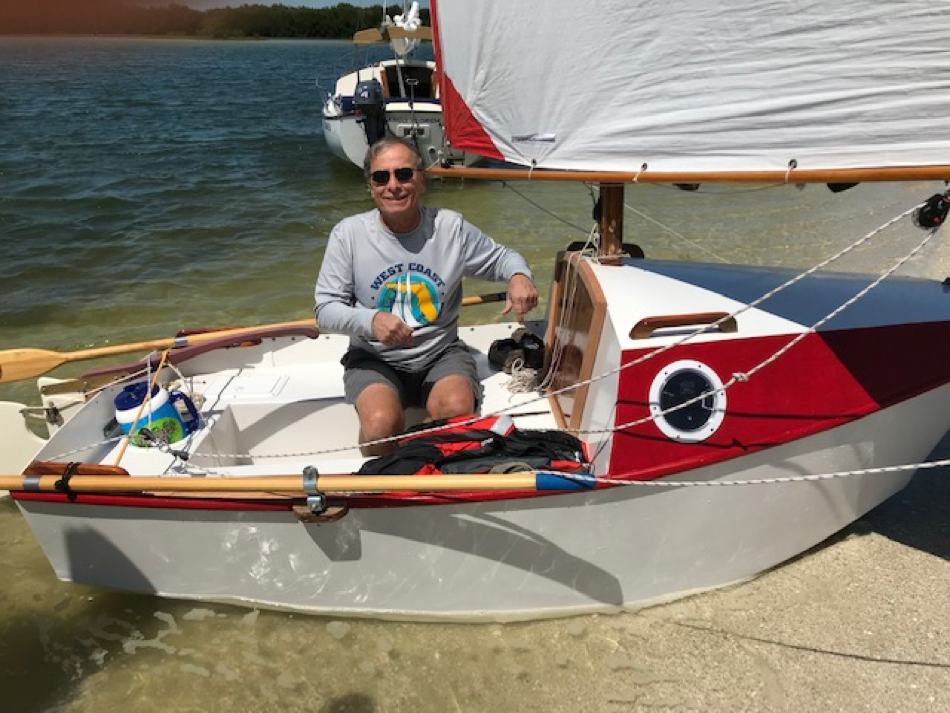 It sailed GREAT!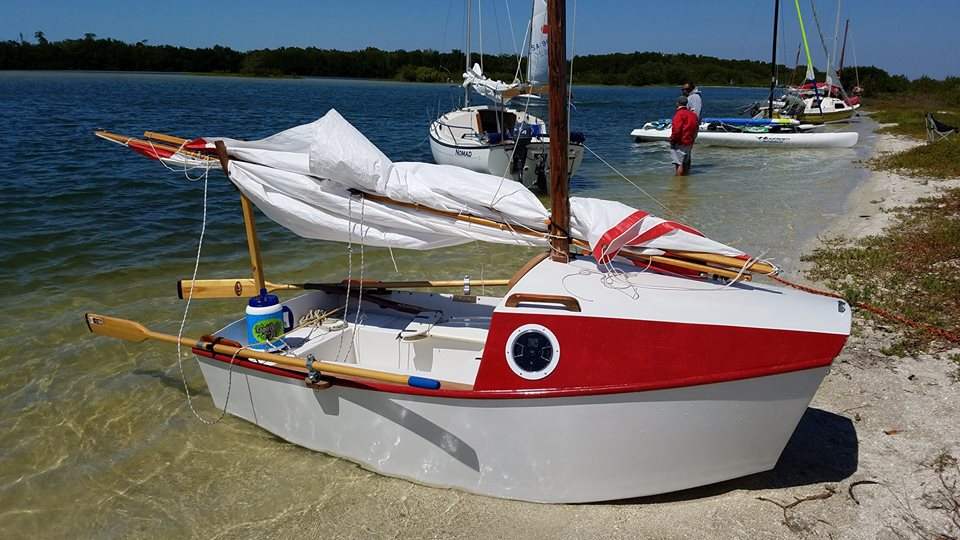 Lil' Gunker at rest.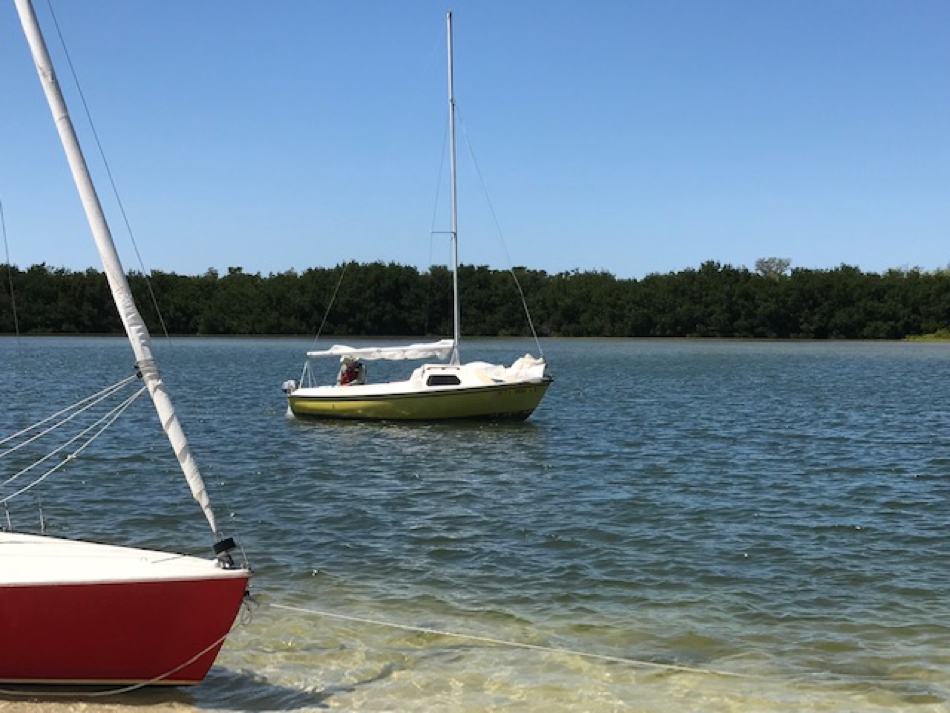 Welcome back to Paul Myers and his Newport 16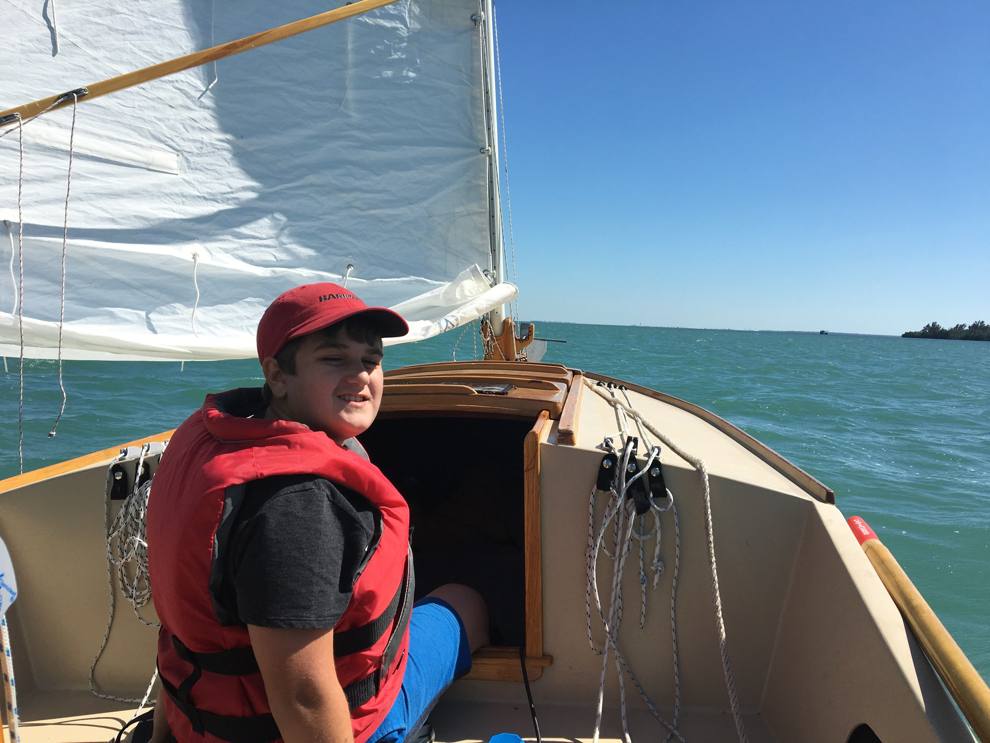 Niko looking forward to going back to Cayo Costa!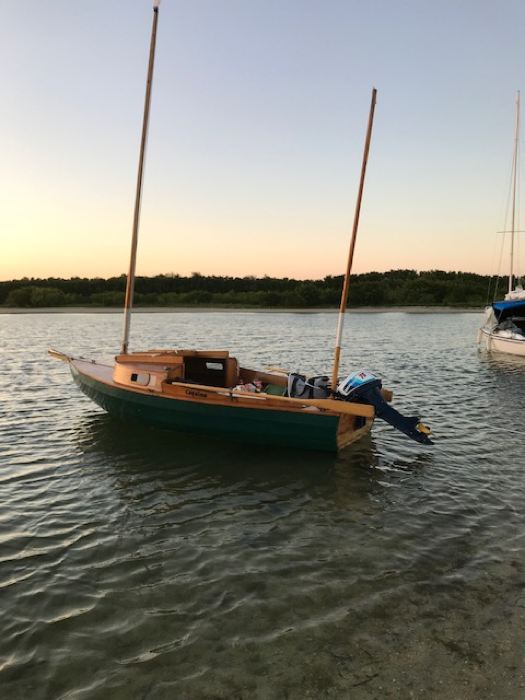 Paul Davis' Swifty 15.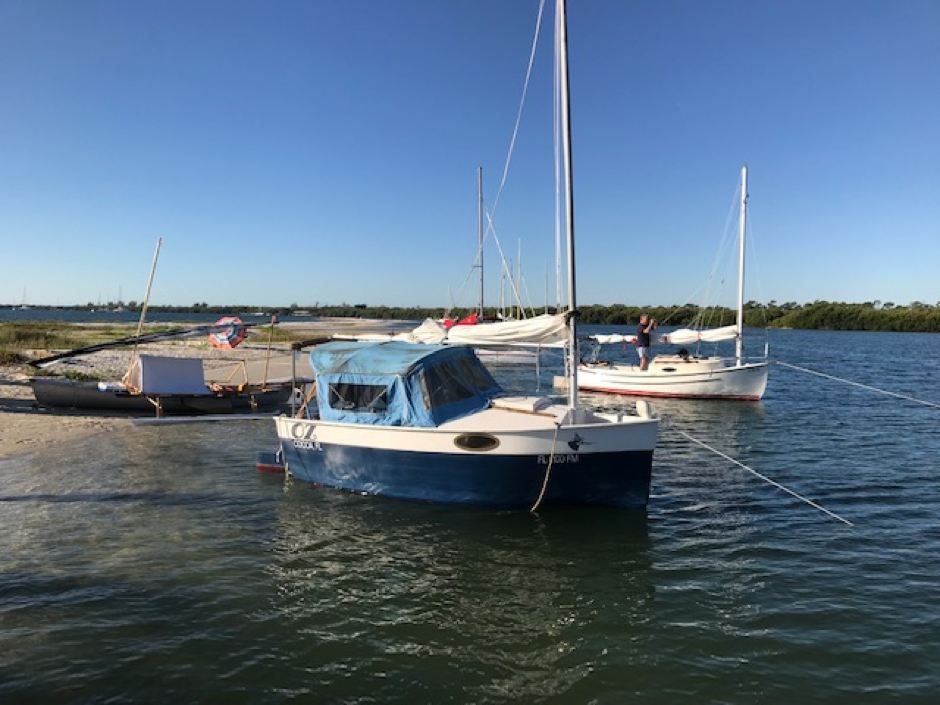 Dale's Peep Hen with summer cabin erected.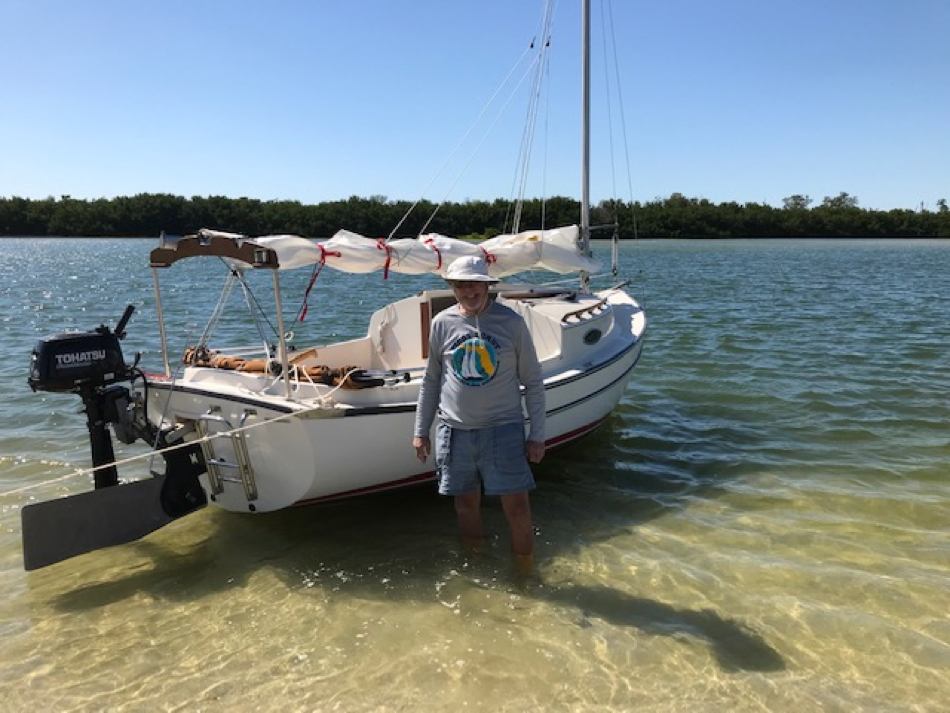 Larry Cairns with his lovely Suncat!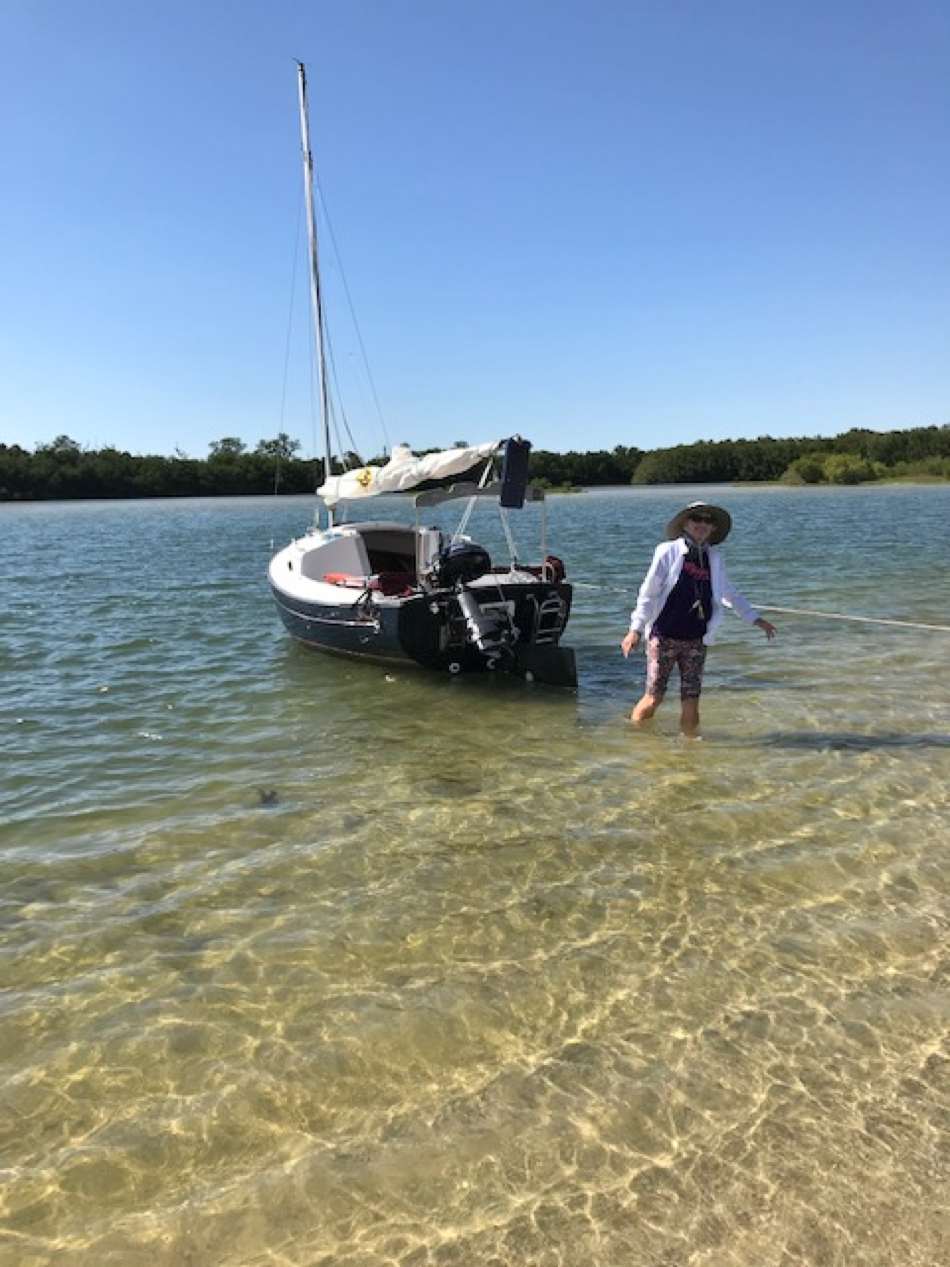 Mary and Bill also came with their SunCat - Stray Cat!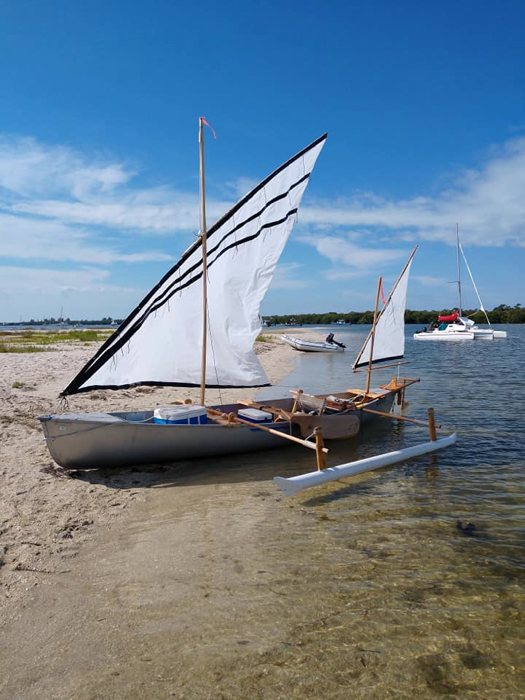 Captain Gerry has another new rig on his canoe!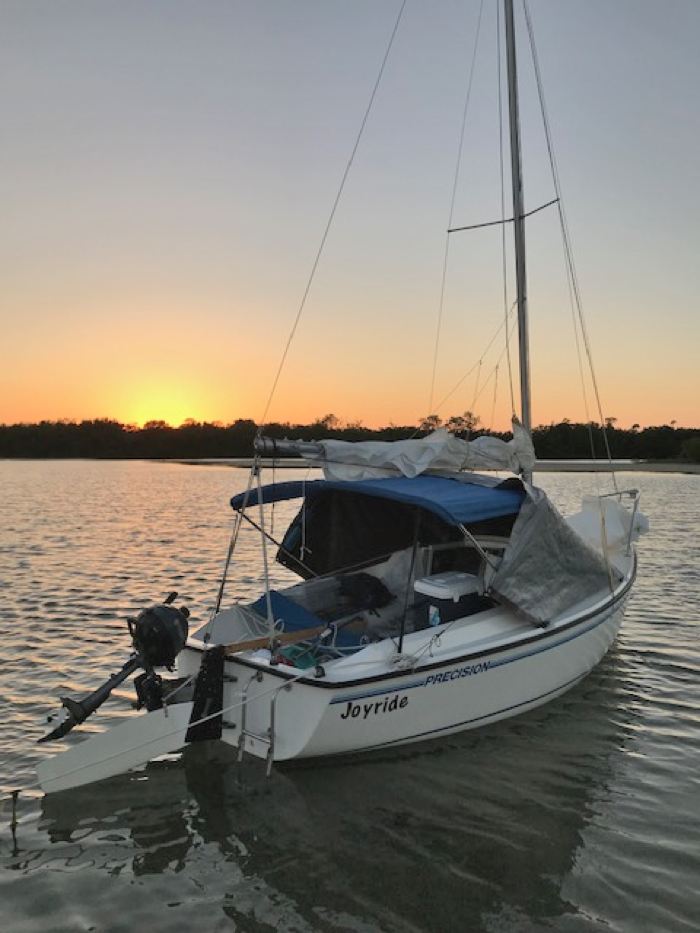 Kevin Riley's Precision Joyride.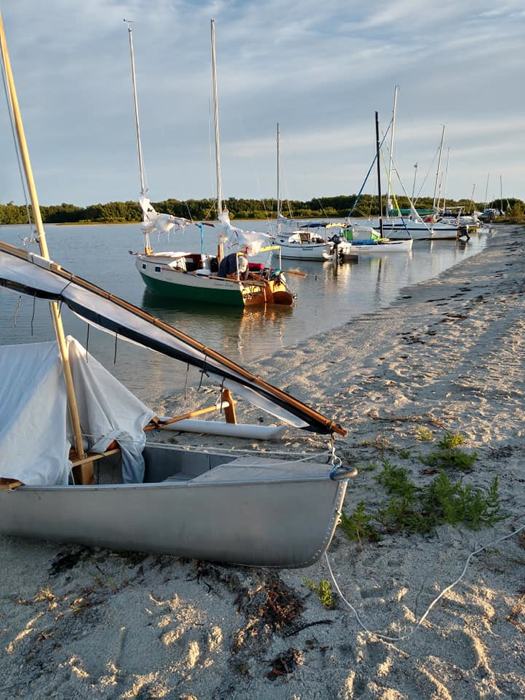 Looking north on the beach.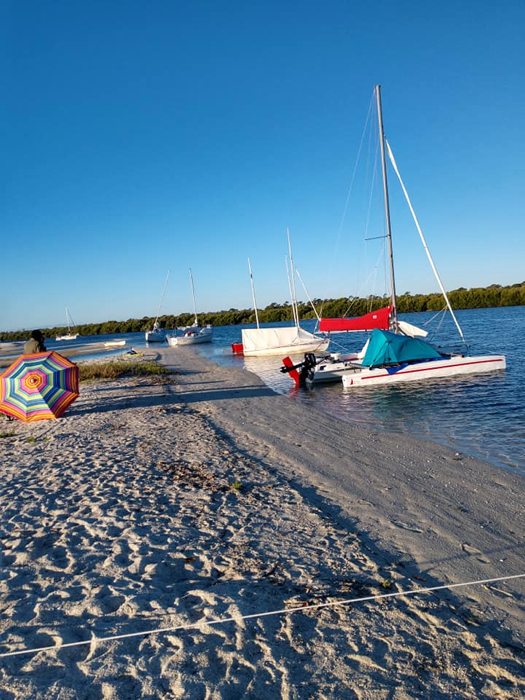 Scott Birdwell's Asta 20 Trimaran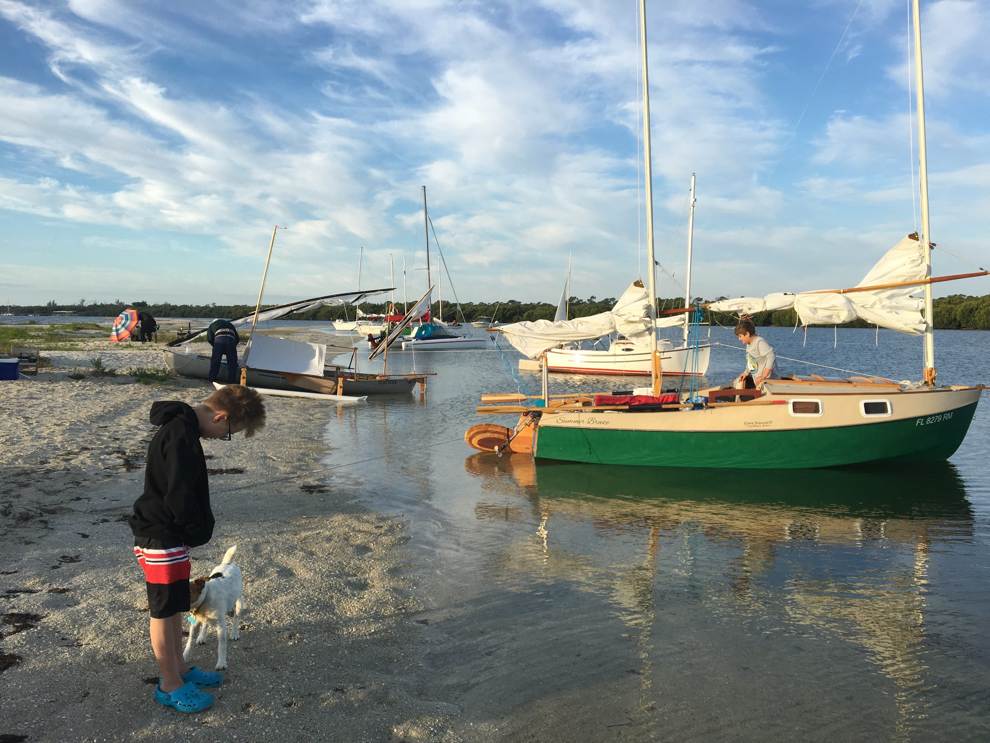 Early morning shot of the beach

Campfire on Friday night.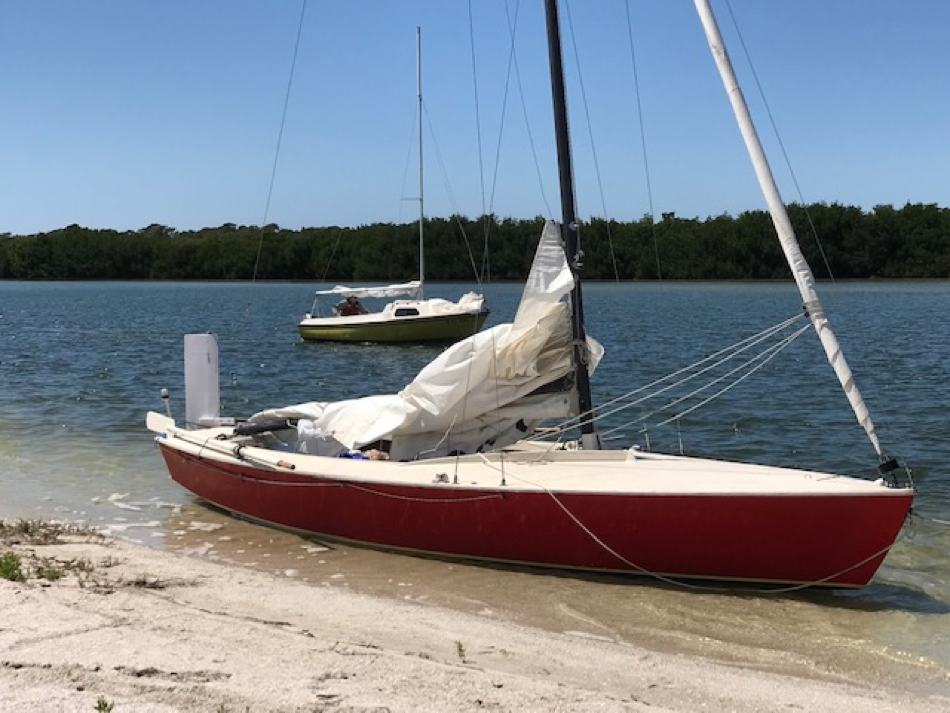 Craig Stiles' Cruiser Rigged Lightning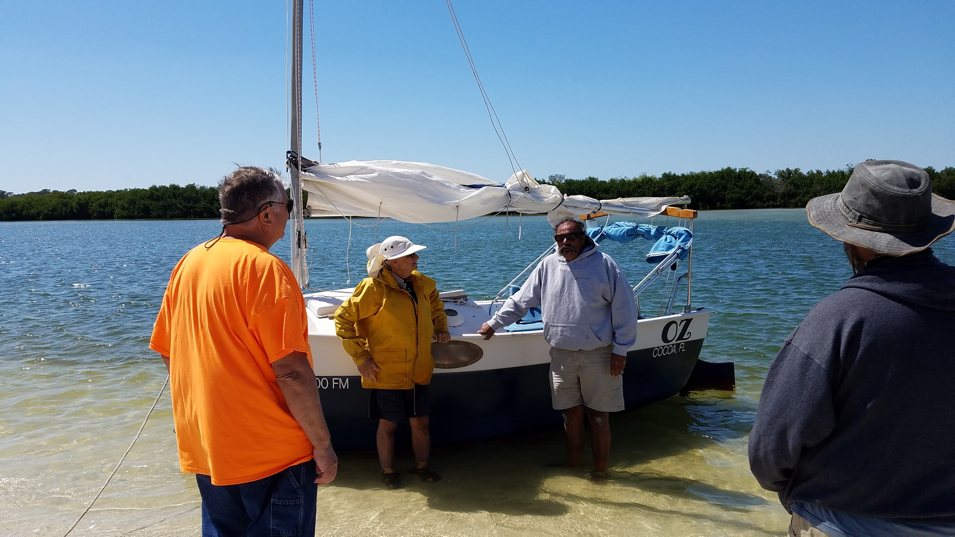 Dale Young explains the peep to David and Pap - new Squadron members.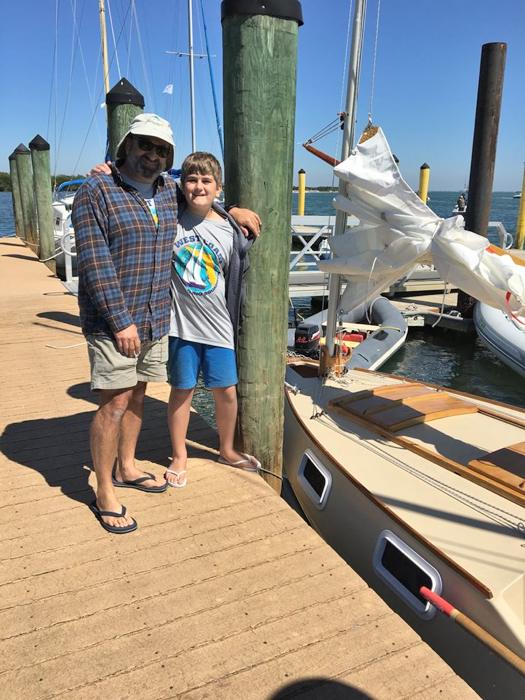 Dimitri and son Niko at the Cayo Costa Ranger Dock for ice cream!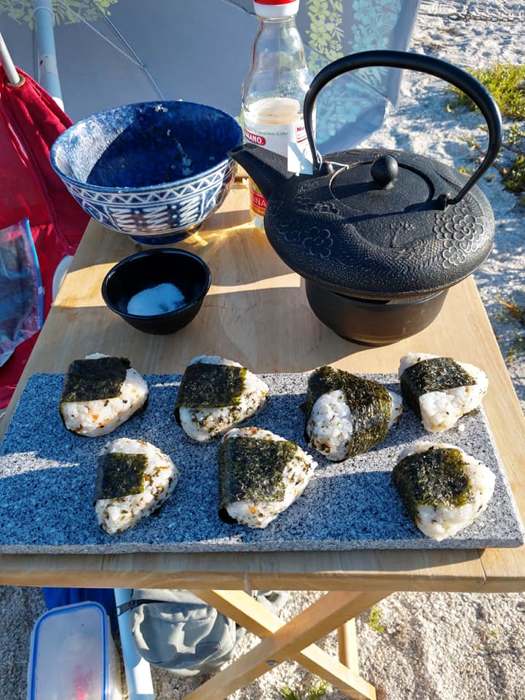 Rice balls provided by Captain Gerry! Great stuff.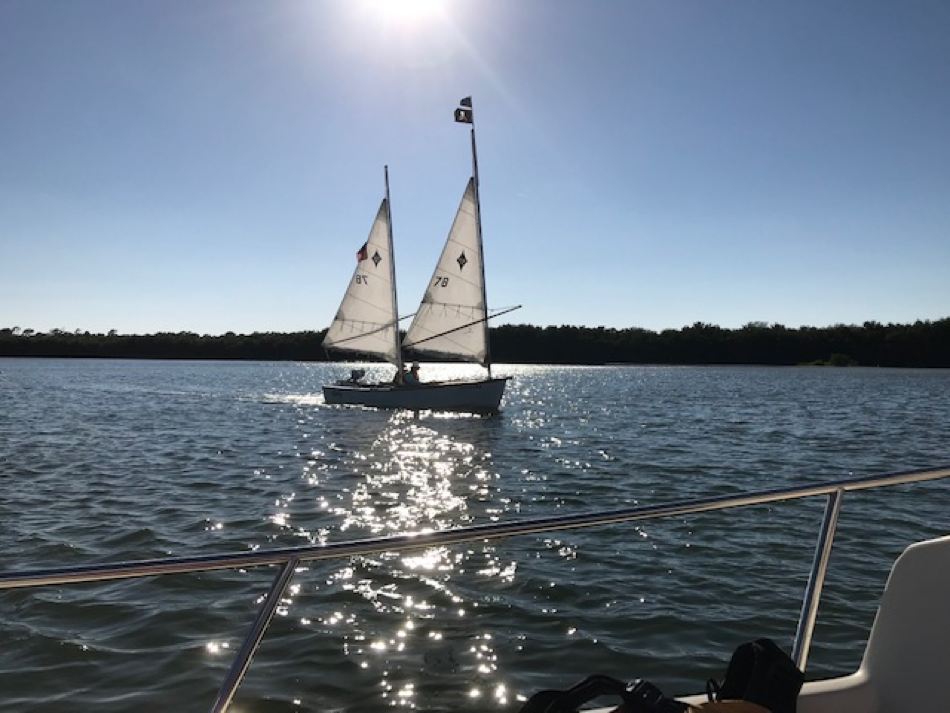 Dale Niemann and Kristi sail into the cove.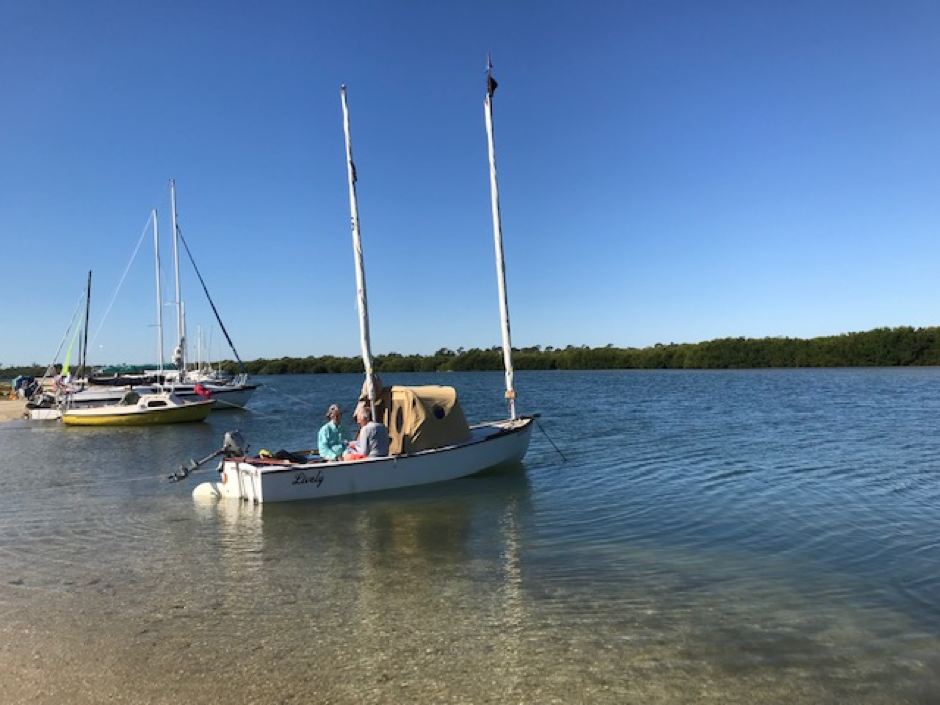 Dale and Kristi with their camping cabin up.
Jose' Rodriguez sails into Pelican Bay with Luna - Sanibel 18!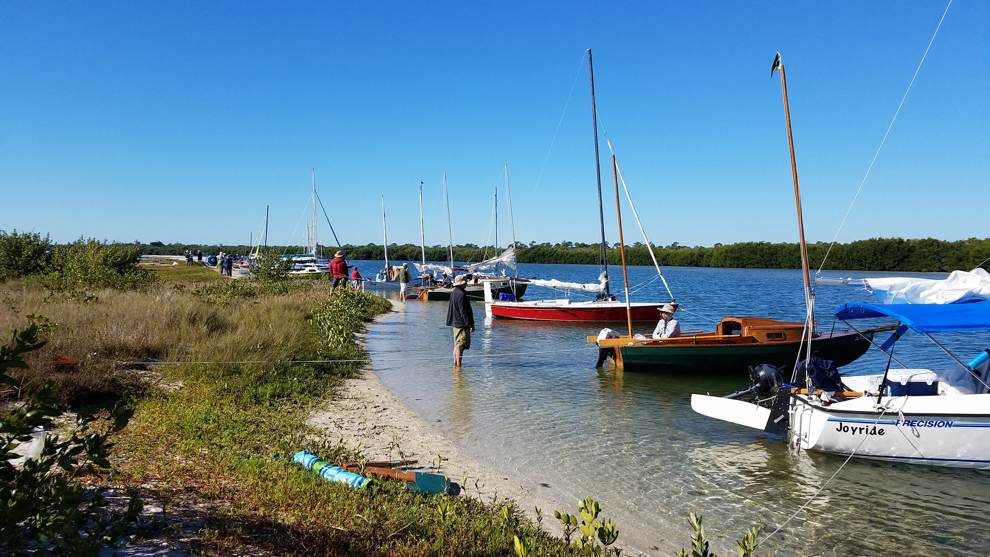 Looking south in the cove.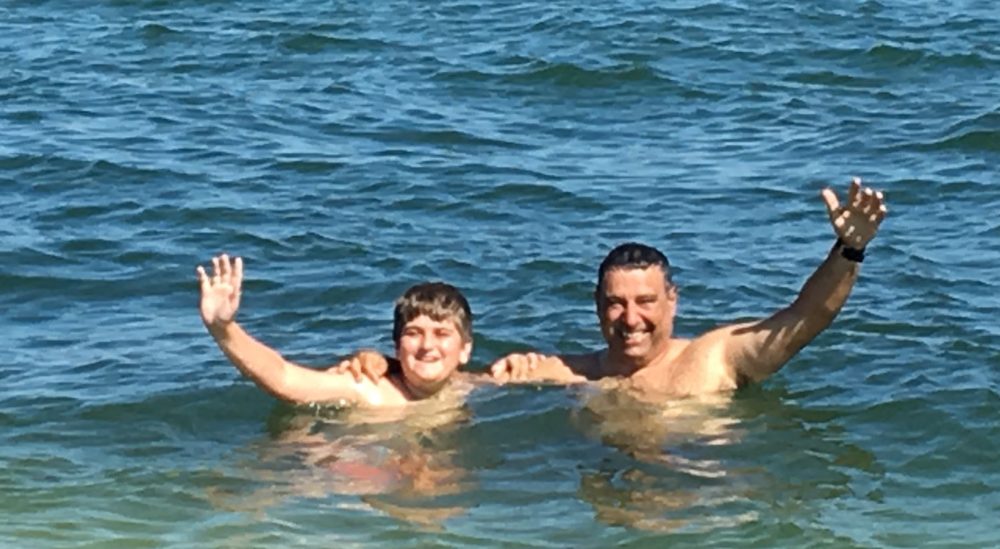 Niko and Jose brave the cool waters for a swim on Saturday.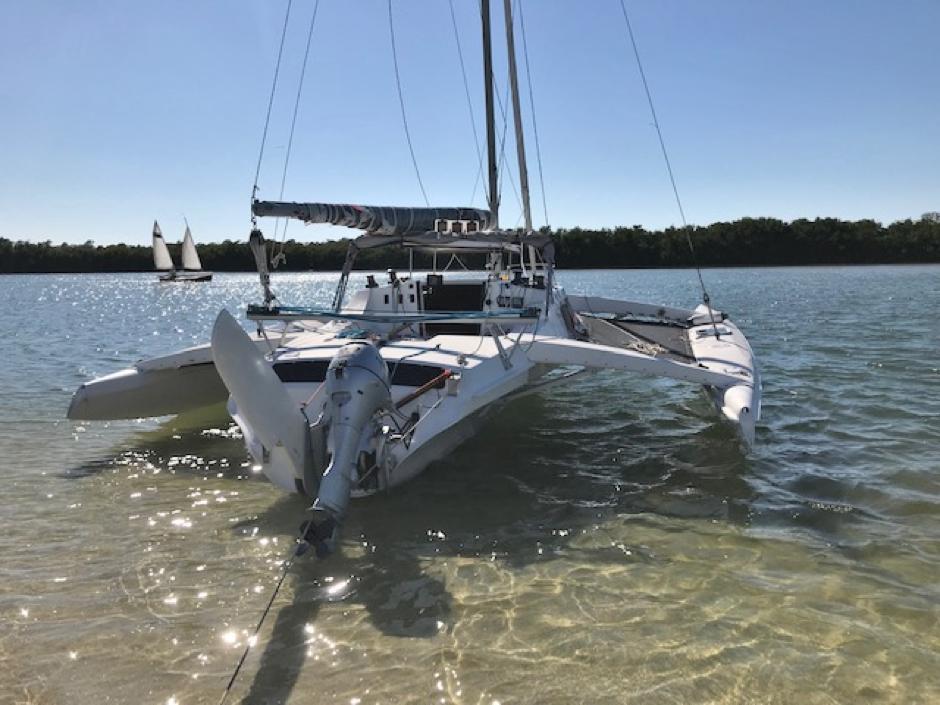 Corsair 28 ! Ric Valdez's new trimaran!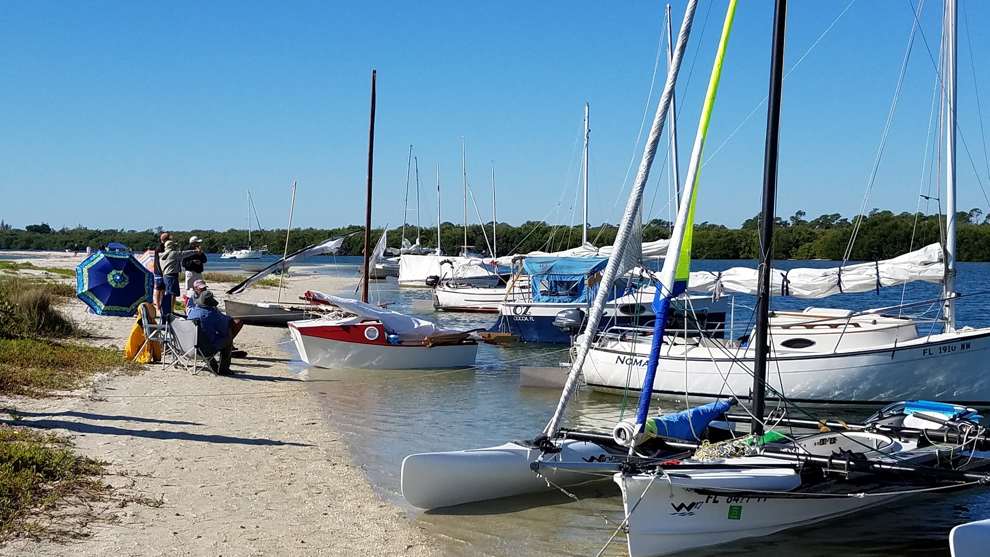 Ricky Aquilara's Windrider in forground.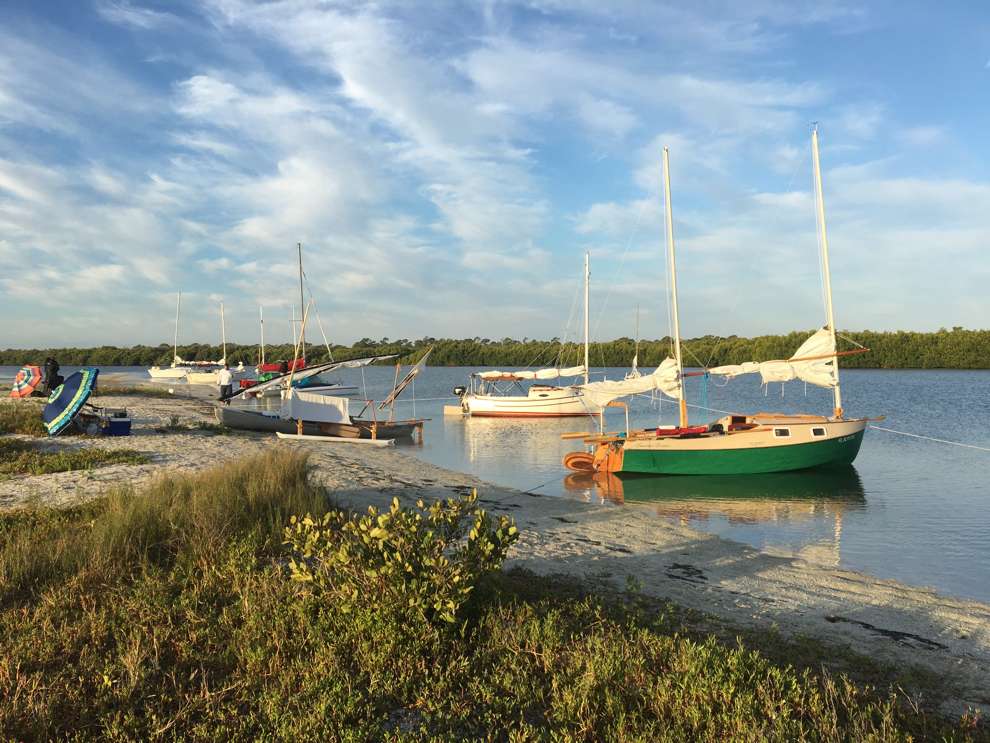 Summer Breeze in foreground - B&B Core Sound MK III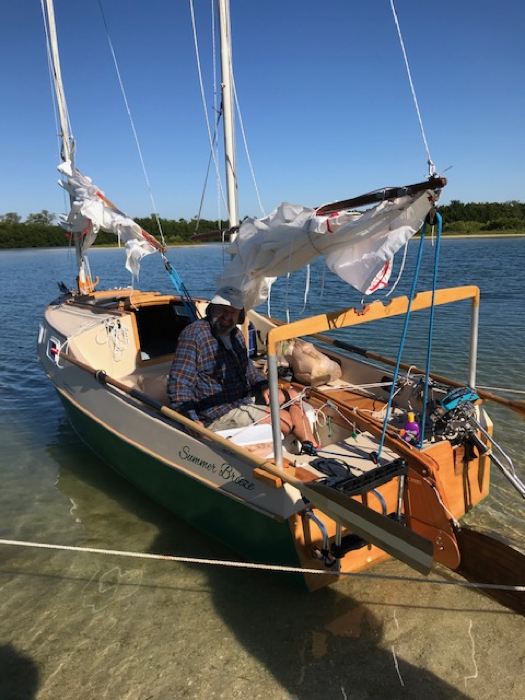 Cockpit of Dimitri's Summer Breeze.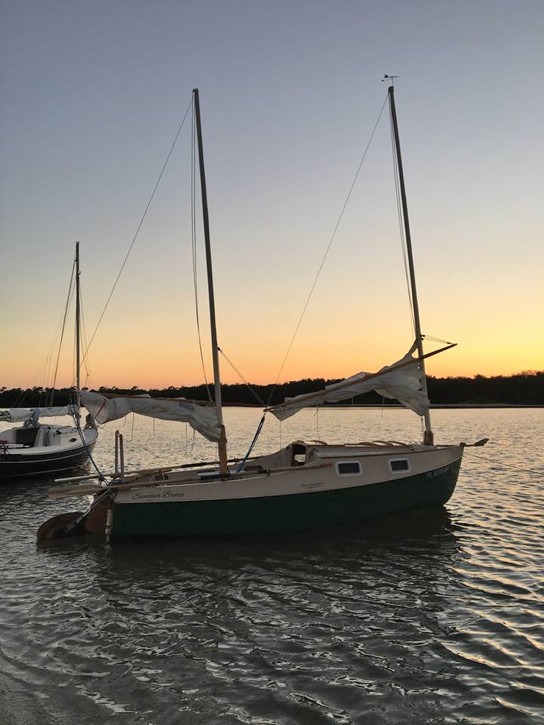 Summer Breeze at Sundown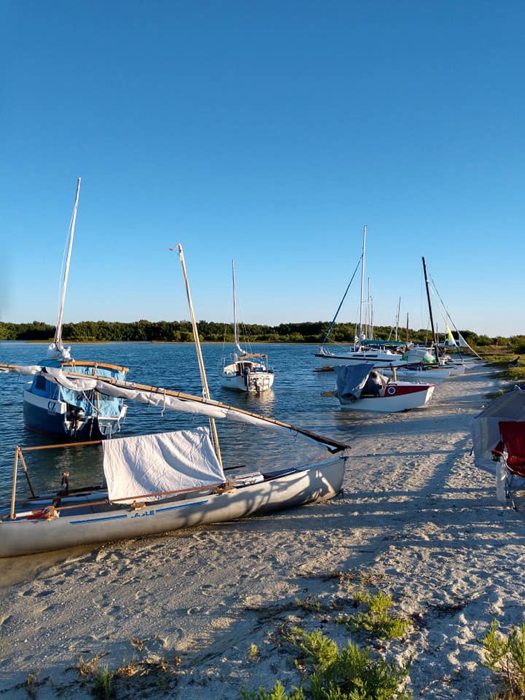 Looking north, Bill and Sandy's Mac 26s is visible.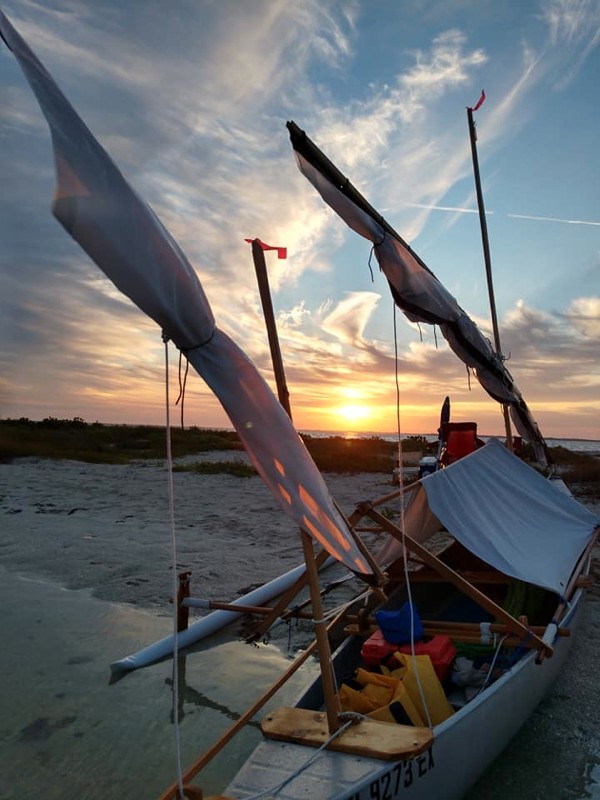 Early morning shot from Capt Gerry's Canoe.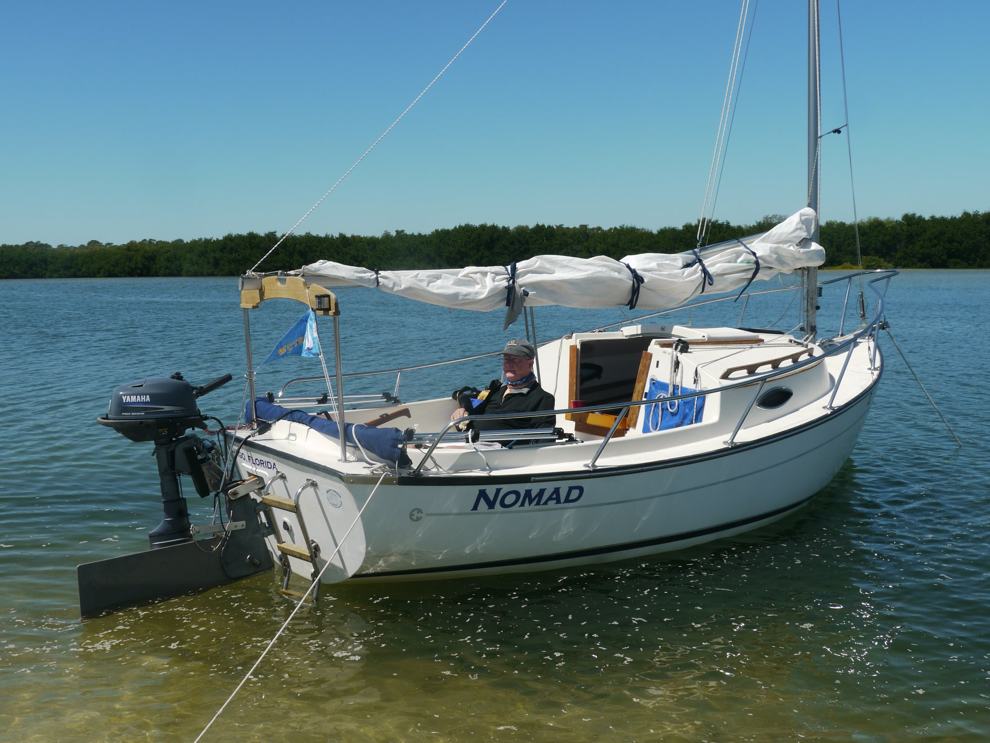 Ron Hoddinott sitting in cockpit of Nomad on folding chair.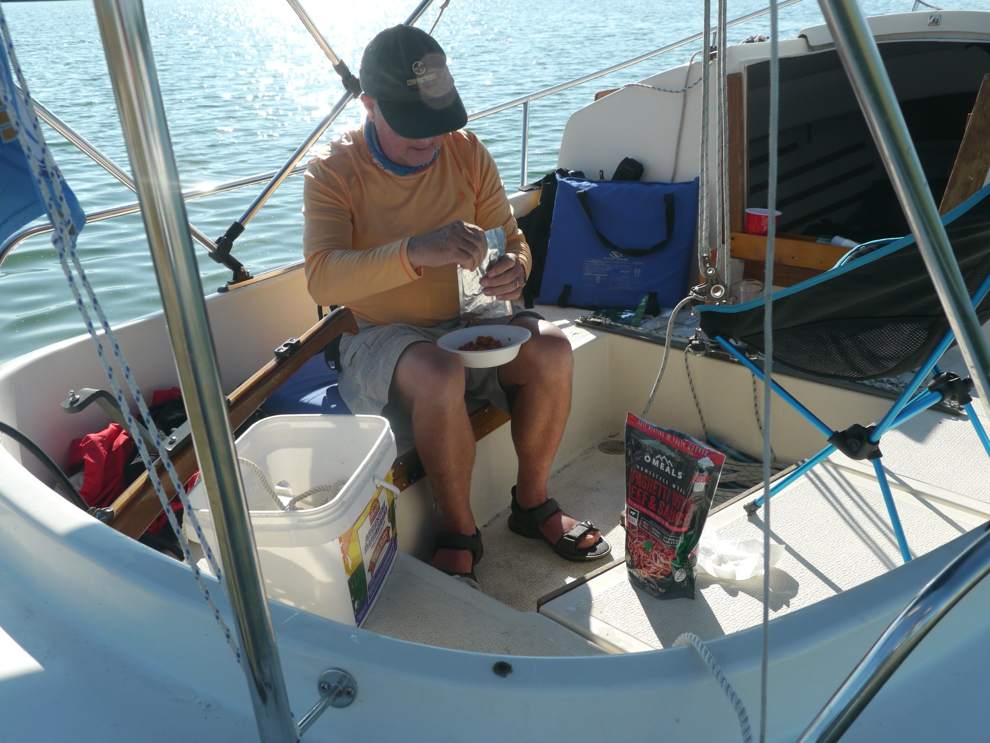 Ron having an "OMeal" for dinner in cockpit of Nomad. Not bad and no clean up.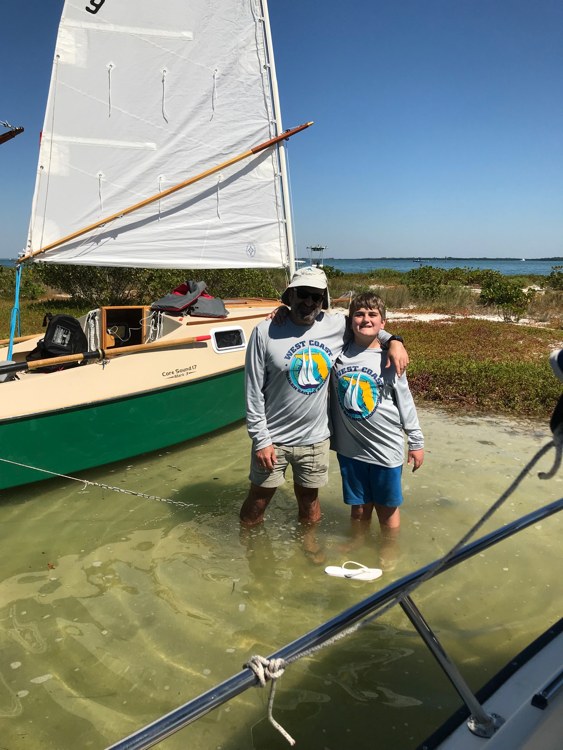 Dimitri and son Niko - Great shirts guys!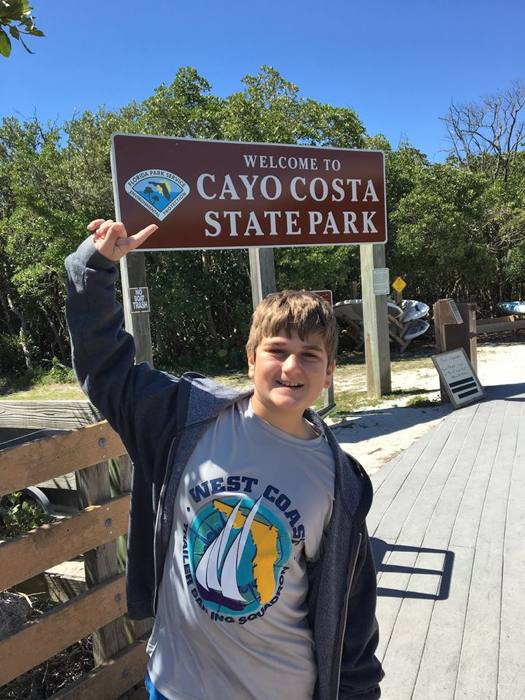 Niko pointing at the sign welcoming us to Cayo Costa State Park!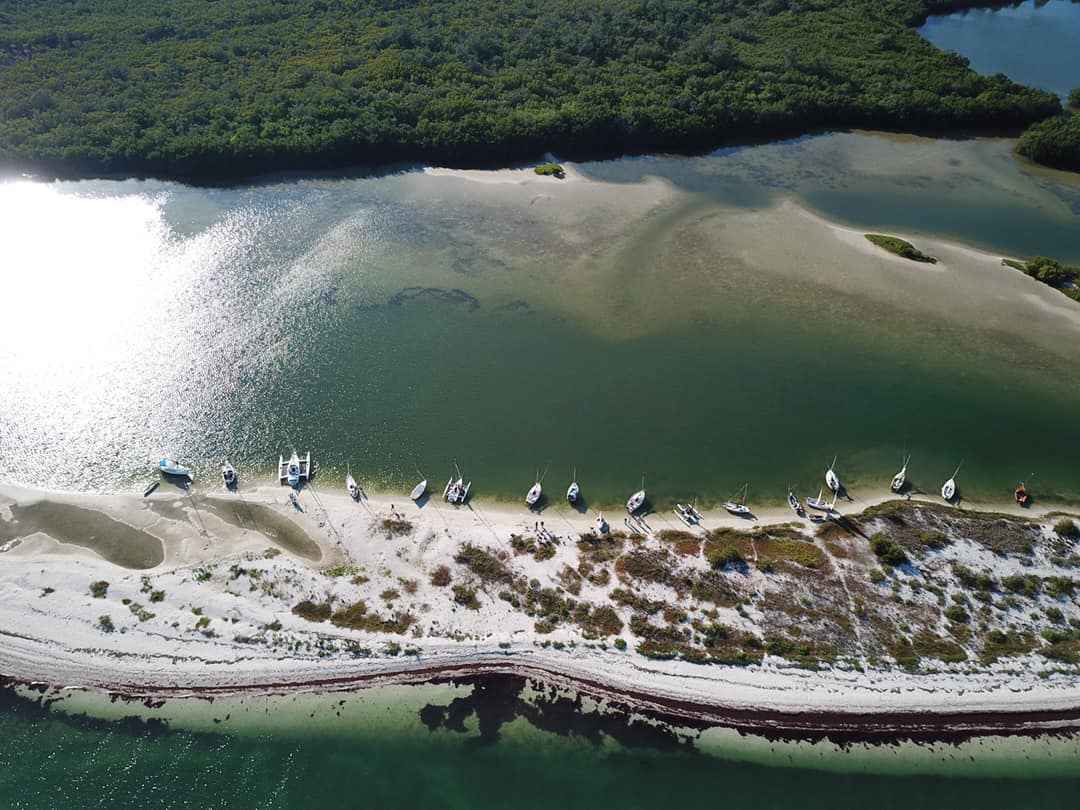 Ric Valdez flew a huge drone over us on Friday afternoon. Can you spot your boat?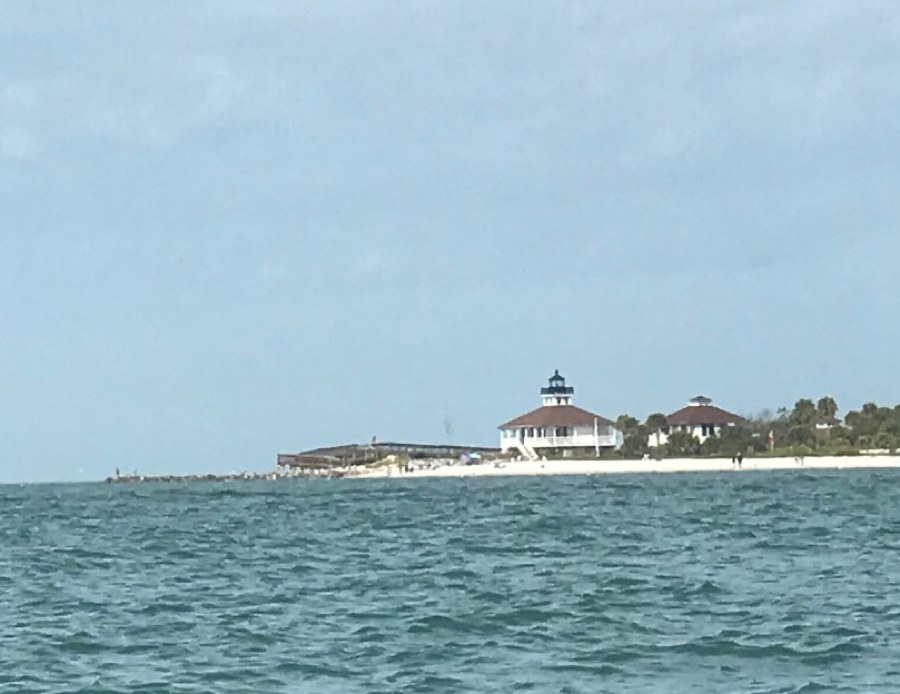 Boca Grande Pass lighthouse - on the way home on Sunday