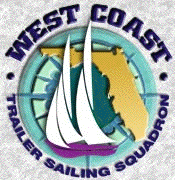 The West Coast Trailer Sailing Squadron's
Events Schedule
1. Saturday June 16th - Lake Tarpon and the Turtle - Daysail .

Saturday sail out of Lake Tarpon's Anderson Park right off of US 19 in Pinellas County. Launch about 9:30, and sail the north end of the lake - making a lunch stop at the Tarpon Turtle with great docks a must. Start coming in to the docks about 11:30 am. Afternoon sailing depending on breeze and thunderstorms (remember them?).

2. Silver Glen Springs Old Foggie's Cruise - rescheduled to: Tuesday - Thursday June 26, 27, 28

Launch at Astor Ramps - State Hwy 40 at the town of Astor on the St. John's River on Tuesday and proceed north downstream to Lake George - about 4 miles. Then cross in a NW direction to the well marked entrance to Silver Glen Springs. Keep left on the way in between the markers. The 72 degree water coming out of the spring will keep the inside of your boat cool at night, so bring a blanket! If you get hot during the day, just jump overboard in the shallow waters surrounding the spring. If weather is good on Wednesday sail north along the western shore of Lake George to the entrance to Salt Springs. Beautiful location! Safe place to leave your vehicle and trailer.