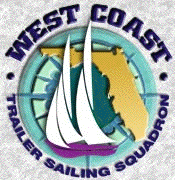 The West Coast Trailer Sailing Squadron's
Events Schedule
1. Cayo Costa Spring Cruise! March 16-18 - Friday through Sunday! Meet inside the sand bar at the north end of Pelican Bay (north end of Cayo Costa State Park) Saturday is St. Patrick's Day so wear something green, or brings some green beer! Launch at Eldred's Marina on Placida and cross Charlotte Harbor, or from Punta Gorda's Laishley Marina, or Bokeelia's small County Marina, or PineLand Marina on Pine Island. Lots of choices.


 

2. Great Florida Gulf Coast Traditional Small Craft Festival - April 20-22 -Hosted by Rex and Kathy Payne and Mike Jones. Sarasota Sailing Squadron just south of New Pass in Sarasota - 1717 Ken Thopson Pkwy, Sarasota, FL 34236

Bring you own classic traditional boat, or just come for the day and evening on Saturday to look at all the fine boats on display and enjoy the company of like minded small boaters.

3. Cedar Key Small Boat Meet - May 4, 5, 6. This is one of our most well attended meets! Make reservations at the many hotels, B&Bs, and Condos. You can launch your boat and then rig it on the beach in front of the Island Place, which is now taking reservations again! The Old Fenimore Mill is another favorite place.

Don't miss the Saturday Catered dinner at the Community Center - Guest Speaker is Josh Colvin - Editor of Small Craft Advisor!